Kevin McBain
of The Clarion
The Kindersley Composite School senior girls have had a great season and came very close to making it to the provincial championships.
The girls were at the 3A regional tournament in Lumsden on the weekend and did very well.
In their first game Friday, they defeated Sandy Bay by a score of 65-59 to advance to the A side for a chance to go to Hoopla! Here, they were matched up against a perennial champion, the host Lumsden team.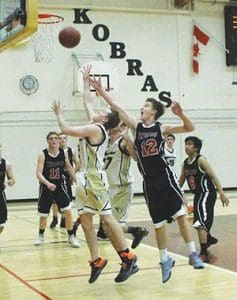 They did very well and lost by just six points, 70-64, which ended their season.
Coach Autumn Lane reflected back on the tournament and was very happy with the way the girls played.
For more on this story, please see the Mar. 21 print edition of The Clarion.