Kevin McBain
of The Clarion
The Kindersley Composite School senior girls have had a great season and came very close to making it to the provincial championships.
The girls were at the 3A regional tournament in Lumsden on the weekend and did very well.
In their first game Friday, they defeated Sandy Bay by a score of 65-59 to advance to the A side for a chance to go to Hoopla! Here, they were matched up against a perennial champion, the host Lumsden team.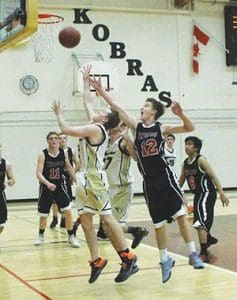 They did very well and lost by just six points, 70-64, which ended their season.
Coach Autumn Lane reflected back on the tournament and was very happy with the way the girls played.
[emember_protected for="2″ custom_msg='For more on this story, please see the Mar. 21 print edition of The Clarion.']
"In the first game, Sandy Bay was ranked seventh going in and we were ranked 10th," she said. "We watched them before our game and they were really good.
"We had a girl shadow their top player and we got her off her game, she got frustrated and it threw her off her game," added Lane. "We also had more girls then they did. We had 11 and they only had seven, so I think we tired them out. Our girls worked super hard this entire game and their shooting was on point."
Saturday at noon, they were matched up against Lumsden, the two-time defending champions.
"Despite knowing this, the girls were not intimidated. They left their blood, sweat and tears out there. They worked so hard and I am so proud of them," she said.
Despite the loss, the girls had a great season and Lane reiterated that she was really proud of them.
"The girls did really well. I learned a lot from them and hopefully they learned from me. It was definitely a great season and I loved working with all of them," she said.
KCS boys
The KCS boys were also competing in the regional championships in Clavet.
The boys took on Sandy Bay in game one Friday night and ended up losing 77-64.
This put them out of contention for a spot at Hoopla, but they did play one more game on the consolation side, and came out strong, defeating Eagleview, 79-61 to close out their season.
Coach Jason Hankewich said they had a good chance to win that first game.
"We were missing a couple of players that really would have helped us out," he said. "We actually started off well and won our first, second and fourth quarters – we were actually up by 14 at one point in the first quarter. We petered out in the third and even though we came back in the second, it was just too much of a deficit to overcome."
He said that the guys played well in the second and took the game handily.
He said that the season, overall, went pretty well.
"They changed how they played from the start of the season, which was good," he said. "A few of the players also really shone and really improved.
"Special thanks to all of the parents who help out during the season that made my life a lot easier," he concluded.
[/emember_protected]