Kevin McBain
of The Clarion
The Kindersley Klippers and Estevan Bruins are embroiled in a battle in their Saskatchewan Junior Hockey League quarter-final series.
The Klippers came out on the short end of the stick in the first two games of this series in Estevan, losing game one 3-1 on Friday and game two 3-2 on Saturday night.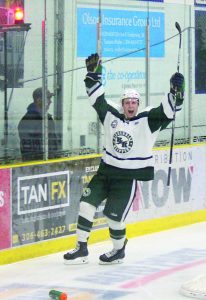 Game three was scheduled for last night in Kindersley and game four is tonight in Kindersley as well.
Game five, if necessary, will be in Estevan March 23, game six, in Kindersley March 25, and game seven, back in Estevan March 27.
For more on this story, please see the Mar. 21 print edition of The Clarion.