Kevin McBain
of The Clarion
The Kindersley Klippers and Estevan Bruins are embroiled in a battle in their Saskatchewan Junior Hockey League quarter-final series.
The Klippers came out on the short end of the stick in the first two games of this series in Estevan, losing game one 3-1 on Friday and game two 3-2 on Saturday night.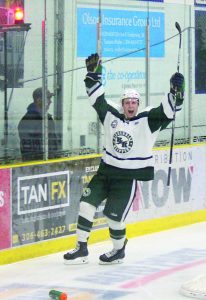 Game three was scheduled for last night in Kindersley and game four is tonight in Kindersley as well.
Game five, if necessary, will be in Estevan March 23, game six, in Kindersley March 25, and game seven, back in Estevan March 27.
[emember_protected for="2″ custom_msg='For more on this story, please see the Mar. 21 print edition of The Clarion.']
Coach Geoff Grimwood said that they are going to have to tighten things up a bit.
"We are playing a good opponent. We have had two fairly tight games against them," he said. "I felt that we have had a tough time dealing with their forecheck and that is something that we will have to definitely get better at."
He hopes that the fans will come out to watch the games back in Kindersley – a good crowd always helps the team.
"It's good playoff junior hockey," said Grimwood. "It is very fast, rough, with some great goaltending on both sides.
"The fans play a huge part, we have struggled with getting fans out for some reason," he said. "We do appreciate the fan support that we do get, but we need to pack the arena to cheer the team on. This is great hockey to watch and why not, come out and watch and cheer the home team on."
Taking a look back, special teams played an important role on both sides. Out of nine total goals scored there were five power play goals and one shorthanded goal scored between the two teams.
In game one, the Bruins scored three goals in the first second period – including two power play goals – after a scoreless first, to take a 3-0 lead. Nik Malenica finally got the Klippers on the board, with a power play marker at the 8:40 mark of the period.
Shots on goal were 29-22 in favour of the Bruins.
In game two, the Bruins struck first again, scoring in the first half of the opening period. Cole Plotnikoff responded for the Klippers at the 13:53 mark to even things up.
In the second, three power play goals were scored. with Michael McChesney scoring two for the Bruins, while Keillan Olson scored in between for the Klippers.
The Klippers were once again outshot, this time by a 34-27 margin.
Justen Close played both games for the Klippers, while Bo Didur was in net for the Bruins.
[/emember_protected]