Kevin McBain
of The Clarion
The Red Lions are down two games to none to Wilkie in their best-of-five Sask. West Hockey League finals, going into game three Friday night in Wilkie.
The Red Lions dropped their second game of their series in Wilkie last Wednesday 3-2 in overtime after losing game one 6-3 in Kindersley March 11.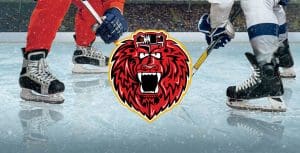 They will now play game three in Wilkie Friday at 8:30 p.m., followed by game four, if necessary, in Kindersley Saturday at 7:30 p.m.
Coach Wayne Samson said that the guys remain confident and upbeat.
For more on this story, please see the Mar. 21 print edition of The Clarion.