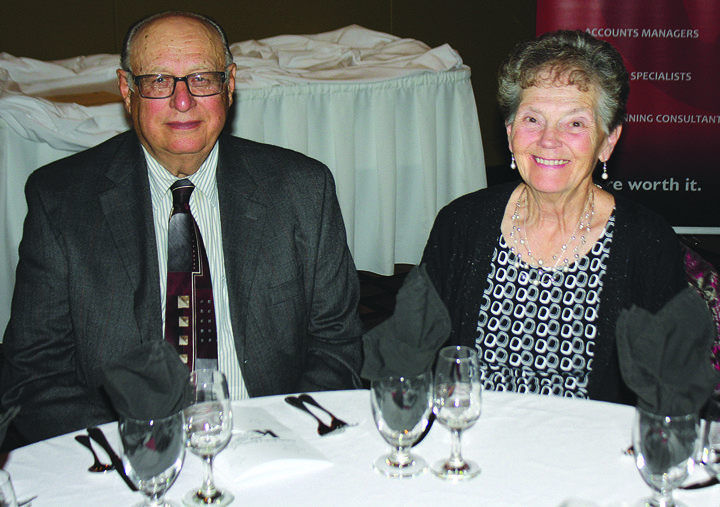 Kenneth Brown
of The Clarion
Local volunteer Audrey Heit has spent a lifetime helping out in various ways, and she is about to receive a special honour to be recognized for her contributions.
Heit, 76, is one of 10 Saskatchewan citizens receiving a Saskatchewan Volunteer Medal (SVM) later in April. Heit is part of the 2017 recipients of the SVM and she will go to Regina on April 17 to receive her medal from Let.-Gov. W. Thomas Molloy.
The medals will be presented to the dedicated volunteers at a ceremony at Government House during National Volunteer Week on April 15-21. In an official statement, Molloy says the SVM recipients are an example to all Saskatchewan citizens and they have all helped to make Saskatchewan a better place.
Joining Heit, who has lived in Kindersley since 1973, as the 2017 recipients are Michelle Al-Katib of White City, Mal Barber of Weyburn, Scott Boyes of La Ronge, Robert Dumur of Pasqua Lake, Shirley Frydenlund of Allan, Paul Jasper of Saskatoon, Helene Kesten of Regina, Eugene Paquin of Saskatoon, and Vincent Somogyi of Willowbrook.
[emember_protected for="2″ custom_msg='For more on this story, please see the Apr. 4 print edition of The Clarion.']
The SVM program was established in 1995 to recognize the extraordinary work done by the province's volunteers and since its inception, a total of 194 citizens have received the honour, according to a press release on March 22.
Heit said her 80-year-old brother, a former Saskatchewan resident now living in Waterloo, Ont., is going to attend the ceremony on April 17, and it is nice of him to come all this way for the occasion. The long-time Kindersley resident was born and raised in Saskatoon.
She noted that she moved to Kindersley after meeting her husband in the city, but her husband's family had moved to Saskatoon from Tramping Lake. The couple settled in Kindersley, and Heit has been volunteering her time ever since.
The local resident has volunteered with the Kindersley and District Plains Museum, Kindersley Legion, Kindersley and District Food Bank, Kindersley Curling Club, Meals on Wheels and the Kindersley Branch of the Canadian Mental Health Association, but also by collecting Goodbye to Hunger bags and helping with Remembrance Day services.
Heit said she also volunteers to give rides to local seniors that need to travel to Saskatoon for appointments, and she helps at her church. Heit still helps at the food bank, and she said she just enjoys helping out.
"I love the smile on their faces," she said, recognizing that she continues to help out because she would get bored sitting at home. "Whether it's a child, an adult or a senior, it is the gratification of knowing that I could help somebody. It gives me such a wonderful feeling."
The volunteer was also named Citizen of the Year at the 2016 Kindersley Business Excellence Awards through the Kindersley & District Chamber of Commerce. Heit said she was "absolutely shocked" to learn she was going to receive a medal. She noted that she believes there are several other volunteers out there that deserve the honour.
She said she received a call from the province's Protocol Office, and she was skeptical about returning the call. When she did, a woman told her she was going to receive the volunteer medal and Heit told the woman she must have the wrong person.
After being assured it was her that was going to receive the medal, she told the woman she would be glad to accept the honour. Heit is going on a trip to Europe soon to take a tour of the Rhine River and she returns to Saskatchewan on April 16, a day before she receives her medal. She said her day in Regina starts with photos and interviews, so it will be quite the experience for a person who prefers to stay outside of the spotlight.
Heit said she likes to be in the background because she is an emotional person and she knows receiving an honour such as the SVM is going to be an emotional time for her. She said she will have the support of her husband and brother.
She noted that she found out about the SVM on March 20, but she was sworn to secrecy until the province could announce the 2017 recipients. She told her family, but she had them swear they could keep it a secret until the announcement. Heit said her husband thought she was joking at first, but she had the proof in the form of an email.
The longtime volunteer said she is excited to receive a medal from the province's lieutenant governor. The day will also include a tour of the legislature and she said Kindersley MLA Ken Francis will be in attendance.
Heit works in the shop at the Kindersley Clarion on a casual basis, but she last worked as a special care aide before she retired. She added that it is still hard for her to believe she is going to get a medal from the lieutenant governor, but she is really looking forward to it. Heit joins the late Earl Berard and David Delday of Kindersley as recipients of the medal and it has also been awarded to Anne Reinhart of Eatonia and Marie Knutson of Eston.
[/emember_protected]