Clarion staff
Soccer is a growing sport in the Kindersley area.
Close to 190 youth, about 20 more than last year, have registered already for the spring outdoor season and there is still time to register. If you have missed registration, don't fret, there is still time. Call Kindersley Minor Soccer President Darin Wildman 306-463-7866 for more information on this or for any other questions you may have.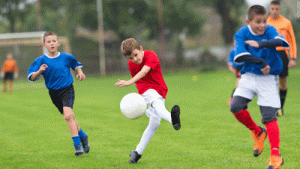 Just as an example of the growing interest, this year there are 70 to 75 registered youth that are under seven years of age, although numbers weren't readily available, it was recognized that this is a lot more than last year's numbers for this age level.
There are several expected teams for a range of ages, split into boys, girls and co-ed.
House league games will all be played on Tuesdays and Thursdays beginning the first week of May and continuing through to mid-June.
Games will be played on the Rotary Field and the Alliance Church field with a chance of a few games being played on the Elizabeth field this year.
For more on this story, please see the Apr. 11 print edition of The Clarion.