Kenneth Brown
of The Clarion
A truck driver has expressed his ongoing concerns with the 658 primary grid road from Highway 7 north to the border separating Kindersley and Winslow.
The complaint focuses on the portion of 658 north of Highway 7 in the RM of Kindersley. There are similar concerns with the 657 primary grid road north of Highway 7. Both of the roads are in rough shape and the concern draws attention to the challenges of road maintenance.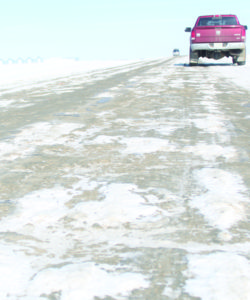 Wayne Whitney, who operates a small oil hauling business in the area, has worked as a truck driver in west central Saskatchewan for several years. Whitney spoke during an interview in early March and the interview took place in his pick up truck while travelling north on 658 a few days after a snow storm.
He referred to Highway 658 as "the Devil's road" and he said the RM of Kindersley has done very little to maintain the busy heavy haul road while other municipalities in the area have been busy maintaining their roads all winter.
The longtime truck driver said the condition of the road is horrifying and even his pick up wanted to slide towards the ditch due to the snow and ice on the road, but also due to the large crown in the centre of the road. Whitney charged that the road was not built properly in the first place.
For more on this story, please see the May 2 print edition of The Clarion.