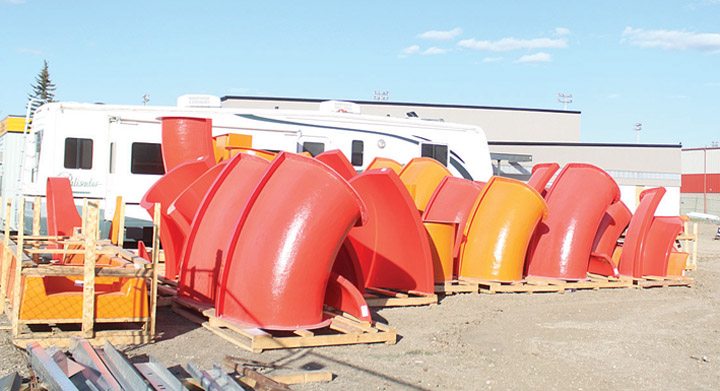 Kenneth Brown
of The Clarion
Town officials are looking at options to reduce the operational costs for the new aquatic centre, and a green technology is one option they are considering.
Council held a special meeting on May 7 to address several items. One item on the agenda was a delegation from Eco-Growth Environmental Inc., a Calgary-based technology company with a focus on providing green initiatives and solutions to environmental challenges.
The delegation consisted of Glen Smith, the company's vice-president of business development, and Scott Kerr, the company's president. Kerr said he and Smith are both "farm kids" from Saskatchewan, so they are used to places like Kindersley. Smith said he was in town to answer any questions from council.
Mayor Rod Perkins spoke about the aquatic centre project. He told the delegates that the shell of the building is up and the centre's main pool is pretty much complete, so workers are making progress on the construction.
"We're just looking at this as an option," Perkins said about the company's green technology, recognizing that the YMCA of Regina has been using the technology with its swimming pool and town officials are excited about the potential of using it at the aquatic centre.
For more on this story, please see the May 9 print edition of The Clarion.