Kevin McBain
of The Clarion
A young local soccer player is looking ahead to his future.
Mason Clapper, 16, was invited and recently attended a tryout, with college scouts in attendance, at Oxford, Ohio, the home of Miami University.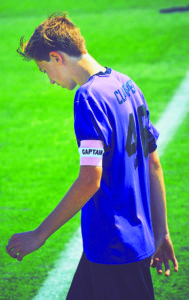 Mason went down with mom Amanda and Bruce Penner for the workout held April 29. It ran from about 8 a.m. to 2 p.m.
"We were staying about 40 minutes away and on the drive there, I was pretty nervous," said Mason. "I had my headphones on and didn't say much.
"When we arrived I just said to myself, this is it, I am here, took a breath and went out," he added.
Mason said that he had made a profile on a recruiting site – NCSAsports.org – and the head coach from Muskingum University, located in New Concord, Ohio, contacted him and invited him to the tryouts.
For more on this story, please see the May 16 print edition of The Clarion.