Kevin McBain
of the Clarion
The 27th annual Kindersley Indoor Rodeo held May 24-26 was another huge success.
Committee president Tyler Ritchie said he was very happy how things went.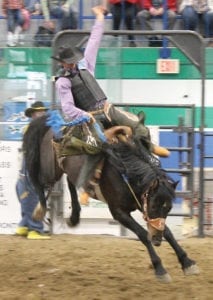 "Everything went really smooth," he said. "I think we are in a bit of a groove now. Everything moved along very well."
He added that it takes a lot of people to put this event on and he is very happy with their effort.
"I'm absolutely thrilled," said Ritchie. "I can't imagine putting on this event with another group. It is the most hard working crew ever. From the front gate workers to the rakers, to the beer garden workers, they all did such a great job."
For more on this story, please see the May 30 print edition of The Clarion.