Kevin McBain
of The Clarion
In just a few short days late last week, the Klippers found out that their coach/general manager would be leaving the team and a new coach/GM was hired.
Geoff Grimwood, who was the coach and general manager of the Kindersley Klippers for three seasons, announced last Wednesday that the he would not return to the Saskatchewan Junior Hockey League team for the 2018-19 season. The Klippers quickly called up a familiar face, Clayton Jardine, who was the assistant coach for the Klippers in 2015-16. After a quick few hours he accepted the position, announced May 25.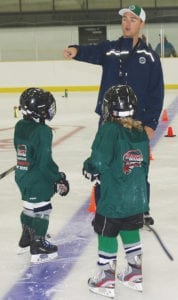 Grimwood announced his decision May 23 and said that it was time to move on.
"My contract was up this spring and for me, personally, I wanted to move closer to family," said the native of Victoria, B.C. "It was not an easy decision for me. I feel so grateful for the opportunity to coach in Kindersley and I have built up a lot of relationships there. It was very bittersweet.
"I will definitely continue to follow the team and the SJHL. I loved it in Kindersley," he added.
Grimwood led the team to three straight playoff appearances and finished with a record of 79-82-13 overall. He feels that the team is in good shape.
For more on this story, please see the May 30 print edition of The Clarion.