Kenneth Brown
of The Clarion
The Kindersley Community Service Group is hopeful ticket sales ramp up for its Chase the Ace draw with only five draws remaining before the draw ends.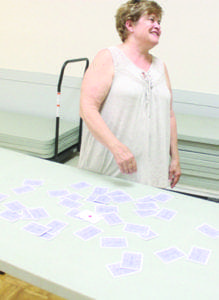 The most recent draw took place on July 5 at the Elks Hall. Darlene May, a volunteer that helps to sell Chase the Ace tickets, had her ticket drawn and she won $266. May then picked a card and she picked the Ace of Hearts, so she nearly picked the coveted Ace of Spades.
The draw on July 5 was the 21st draw and the final draw is scheduled to take place on Sept. 27. If the Ace of Spades is not picked in the four draws before the final draw, the elusive card will be picked by someone at the final draw.
Gary Hamilton, a member of the Kindersley Elks Lodge, is a representative of the community service group. The group consists of the Elks, Kindersley Legion, Kindersley Rotary Club and Kindersley Masonic Lodge. Proceeds from the Chase the Ace draw go toward the Kindersley Aquatics Centre project.
For more on this story, please see the Jul. 11 print edition of The Clarion.