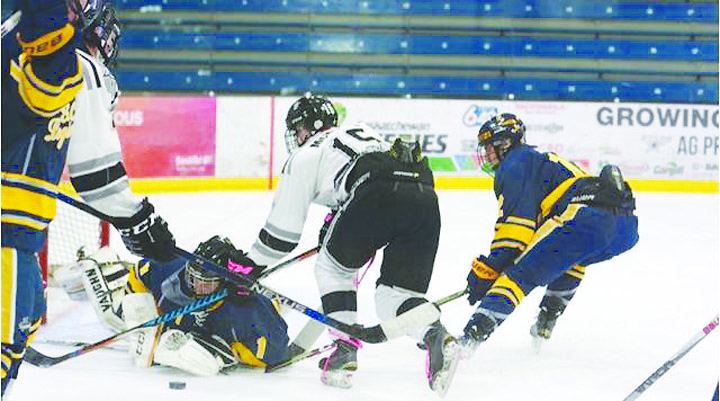 Kenneth Brown
of The Clarion
The Iron Horse Kindersley Klippers have been busy in the offseason. The team has just announced a three-player trade and its signees for the 2018-19 season.
The Klippers announced a three-player deal with the Drumheller Dragons on July 4 and the team acquired a pair of players from Drumheller for defenceman Brendon Borbely, a 19-year-old. The team picked up a forward and a defenceman in the trade, and the players are twins.
Kindersley acquired forward Nate Keeley and defenceman Clay Keeley from the Dragons, a pair of 20-year-old role players. Nate has played 103 games in the Alberta Junior Hockey League, and Clay has played 118 games in the AJHL.
The Klippers also announced their most recent signees on June 28 with a total of nine players inking their rights with the hockey club. The group of players includes Kindersley's Damon McKenzie, a 5'10 forward that scored 19 goals and 31 points in 44 games for the Battlefords Stars AAA Midgets last season, and Kerrobert's Brett Neumeier, a six-foot forward that comes from the Tisdale Trojans AAA Midget program.
The team's other signees are Nathan Engle, a 6'2 forward from Rosemary, Alta., Thomas Hiller, a 5'10 forward from Calgary, Jake Koroluk, a six-foot defenceman from Prince Albert, Tyson Laduke, a 5'11 forward from Okotoks, Alta., Robert Michetti, a 6'3 goaltender from Fort McMurray, Matthew Pesenti, a 5'10 goaltender from Saskatoon, and Troy Kosmynka, a 5'9 defenceman from Warman, Sask. Eight of the nine signees were born in 2000 and Pesenti was born in 2001.
For more on this story, please see the Jul. 11 print edition of The Clarion.