Clarion staff
The Fertile Valley Baseball League's (FVBL) regular season is drawing to a close and the undefeated Kindersley Stallions are poised atop the league and their division.
The Stallions are 11-0 with two games remaining, although if one of the games is not made up, the team only has one game left to play on the schedule. The Stallions are away in Elrose tomorrow night for a game against the Aces starting at 7 p.m. The Aces are tied for first in the East division with a record of 6-3.
In the Stallions' last three games, the team earned wins of 8-0 over the Kindersley Royals on June 22, 5-4 over the Rosetown Angels on June 23 and a 17-3 drumming of the Eatonia Wheat Kings in Kindersley on June 29.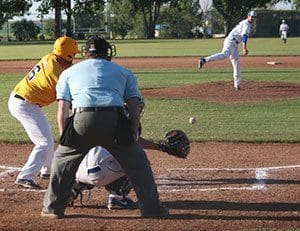 The Kindersley Raiders are second in the West division behind the Stallions with a record of 8-2. The Raiders earned a convincing win over the Wheat Kings in their game on Monday by a final score of 11-2. Byron Ismond pitched well to earn the win, a win that included a six-run fourth inning for the Raiders.
The Raiders only have one game remaining on their schedule, a game tomorrow night against the rival Angels in Rosetown starting at 7 p.m. The Raiders and Angels have played in the FVBL final three years in a row with the Angels winning the title in two of those years.
At the opposite end of the West division standings are the Kindersley Klippers, Kindersley Royals and the Wheat Kings. The Klippers at 2-6 on the season were scheduled to play the Kyle Yellow Jackets last night in Kyle.
For more on this story, please see the July 6 print edition of The Clarion.
© Kindersley Clarion