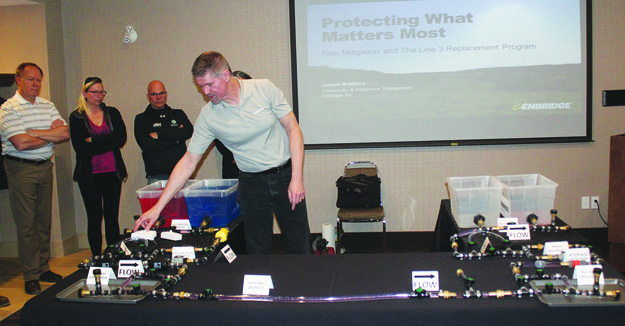 Kenneth Brown
of The Clarion
The single largest project in Enbridge history is going to cut through the Kindersley area in 2018, and company officials are talking to local stakeholders.
Representatives from Enbridge were at the Canalta Hotel Kindersley on April 24 for a luncheon hosted by the Kindersley & District Chamber of Commerce. The pipeline company embarked on its Line 3 Replacement Project (L3RP) in 2017. The luncheon focused on L3RP.
There were several project officials at the luncheon including a representative from O.J. Pipelines, the lead contractor for work in the Kindersley area. Three officials from Enbridge were at the council meeting on April 23 to provide project details to town officials and to answer any of their questions.
The luncheon included a presentation by Joanne Bradbury, a community engagement strategist for Enbridge, and the event started with a table top demonstration by Peter Hansen, a senior advisor of community relations for Enbridge.
Bradbury, one of the company's officials at the council meeting, spoke after lunch had been served. Her presentation was titled Risk Mitigation and the Line 3 Replacement Project. She introduced her colleagues at the meeting including two staff members from the company's land services group.
She also introduced James Simpson, the project manager for O.J. Pipelines. Simpson was unable to attend the council meeting, but he was at the luncheon to represent the contractor and answer any questions people might want to ask, Bradbury said.
For more on this story, please see the May 2 print edition of The Clarion.