Kenneth Brown
of The Clarion
It didn't take long after the first heat and rainfall of the season for mosquitoes to become a problem so the Town of Kindersley is tackling the issue early this season.
The town is taking a two-pronged approach to battling mosquitoes in response to another early-season presence by the pesky little insects. The town has been spraying the chemical malathion in green spaces throughout the community since
May 15.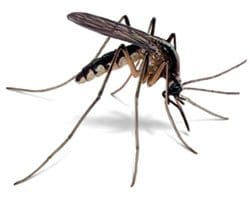 Malathion is an outdoor insecticide that is applied topically and the chemical is known to be effective in eradicating both mosquitoes and ticks. Ticks have also been a concern in town in recent years. Malathion is applied by licensed staff.
Town workers are spraying malathion in all municipal green spaces including parks, ball diamonds, soccer fields, the Kindersley Community Walking Trail at the Motherwell Reservoir and Senses Unleashed Dog Park. The spraying will continue throughout the spring and summer if needed.
According to the National Pesticide Information Center at Oregon State University, malathion attacks the central nervous system of insects and it kills the insects by preventing their nervous systems from working properly.
For more on this story, please see the May 23 print edition of The Clarion.