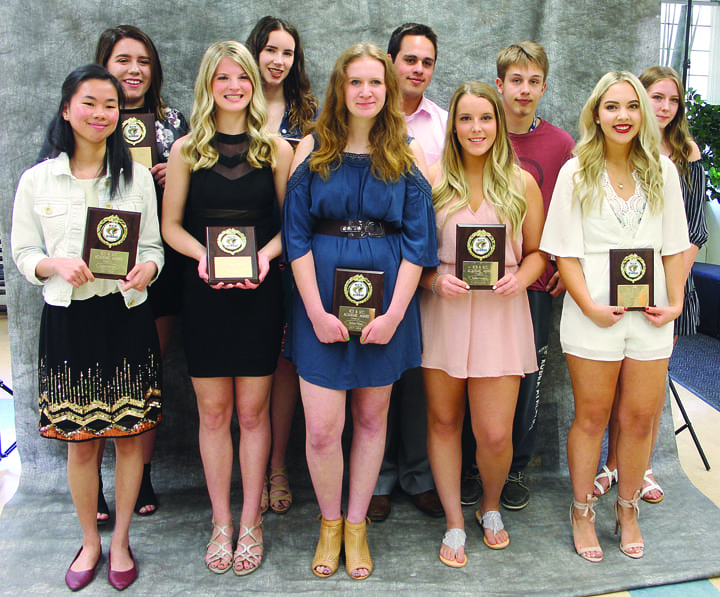 The Kindersley Composite School held its annual awards' presentations Friday morning with student's receiving recognition for their academic and athletic success.
One of the top awards given out each year is the Governor General Award given to the top student from 2017. This year's recipient was Mallory Fries.
School and Community Council Academic Achievement Awards (90 per cent and over in their top eight classes):
Grade 10 – Joshua Enns-Wind, Liam Lennea, Courtney McKenzie, Jyotsna Nanda, Ryker Olafson, Jensen Reichert, Kali Sproule, Mitchell Wozniak and Tori Werner.
Grade 11 – Brittany Allen, Kaitlyn Bevan, Katherine Brewer, Jocelyn Cannon, Caitlin Elliott, Tyler Heck, Sidney Martin, Emily Polsfut, Kathryn Sawatzky, Chelsie Smith, Kenna Tate, Ashlyn Torrens and Sarah Wildman.
Grade 12 – Angela Alindogan, Jessie Hubenig, Jeneva Huckabay, Madison Kosolofski, Madison McBain, Shayla Olafson, Ryan Olivier, Kevin Pinno, Tessa Sautner, Emily Sproule and Erika Wildman.
For more on this story, please see the Jun. 20 print edition of The Clarion.