The West Central Crisis and Family Support Centre is looking to build a safe shelter in Kindersley and information has been shared with the community.
The crisis centre and Town of Kindersley held an information night on June 19 at Caleb Village to discuss the proposed West Central Safe Shelter Project. The shelter has been proposed for a triangle parcel of land located just to the north of Caleb Village.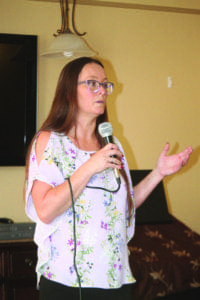 Michelle Weber, executive director of the crisis centre, introduced the project, provided as much information as possible and responded to questions and concerns. She gave the history behind the project and she also provided people with information about the regional non-profit crisis organization.
She noted that the centre provides services to a very large area including east central Alberta and areas north to Unity, east to Rosetown and south to the 49th Parallel. She said the people who live south of the South Saskatchewan River are often serviced by phone.
The executive director said part of the reason for the information night is to reduce any fears or concerns people have with the shelter project. The discussions have been ongoing for more than two years, but the project is in its infancy.
Weber told the story of how a discussion about support from one oil company resulted in several commitments for a shelter project. Weber, who has been with the crisis organization for about five years, also explained the existing processes for trying to help victims of abuse.
For more on this story, please see the Jun. 27 print edition of The Clarion.