Kenneth Brown
of The Clarion
The 2018 Rescue on the Prairie fundraiser for STARS Air Ambulance is in the books and a local businessman has eclipsed a fundraising goal for the annual event.
Garth MacDonald, the president and CEO of G-Mac's AgTeam Inc., had a personal goal to raise $200,000 through his involvement with the STARS fundraiser. MacDonald surpassed his goal by raising a total of $205,350. The event, itself, took place on Sept. 13 near Lumsden.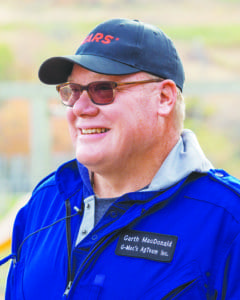 A total of five participants were flown from the STARS hanger in Regina to Beaver Creek Ranch on Sept. 13 to complete various tasks and continue raising money throughout the day. Each participant was armed with only a cell phone. In addition to that day, people were able to donate to participants prior to the event.
This content is for members only.