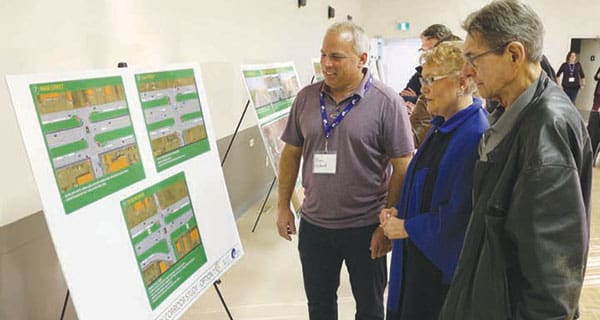 Kenneth Brown
of The Clarion
Safety improvements will be made along the Highway 7 corridor through Kindersley and options have been presented to people during an information session.
The options were presented to the public on Oct. 23 at the Elks Hall in Kindersley. Representatives with the ministry of highways and infrastructure, Town of Kindersley and Associated Engineering, the firm responsible for the drawings, attended the information session.
People attending the Elks Hall were presented with six information boards and eight picture boards. The picture boards included two boards to show existing conditions along the highway corridor through Kindersley, and two boards showing various changes for three different options for improvements along the highway and its service roads.
The information and picture boards are available on the ministry of highways and infrastructure website under the heading for Highway Planning Studies. There is also a link on the Town of Kindersley's Facebook page to take people to the information.
The main considerations for improvements include accommodating an increase in traffic volumes as a result of town and highway growth, balancing mobility and access, maintaining the 70 km/h speed limit, and the spacing between the highway and service roads among others.
This content is for members only.