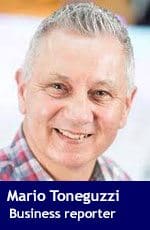 The Salvation Army is sounding the alarm bell.
With only five days until Christmas, the Army's annual Kettle Campaign is $5.3 million behind its $21-million fundraising goal for this year across Canada.
"We rely heavily on our Kettle Campaign to fund our community and social service programs," said Lt.-Col. John Murray, secretary for communications for the Salvation Army. "As people are out shopping in these final days before Christmas, we hope they'll consider donating to a Salvation Army kettle as well. Every dollar donated will help The Salvation Army continue our vital work during Christmas and throughout the year."
The organization said the Christmas Kettle Campaign enables local Salvation Army units in 400 communities across Canada to help individuals and families with the basic necessities of life, such as food, clothing and shelter. Contributions also allow the Salvation Army to continue operating its life-changing programs, such as substance abuse recovery, housing supports, job and skills training, and budgeting and education classes, which help people find a way out of poverty, permanently, it said.
Every donation to a Christmas kettle remains in the community in which it was given, in order to help local people in need. Last year, the Salvation Army helped over 1.7 million people, it added.
"For over 130 years, the Salvation Army has provided hope and dignity to people in need across the country," said Murray. "We couldn't do this without the generosity of our donors and volunteers."
Beyond donating to the Salvation Army's physical Christmas kettles, donations to the 2018 Christmas Campaign can be made at www.FilltheKettle.com, www.SalvationArmy.ca, by calling 1-800-SAL-ARMY (725-2769) or via mail to the Salvation Army, 2 Overlea Blvd, Toronto, ON, M4H 1P4.
The Salvation Army said supporters can host their own online kettle and encourage their friends, family, neighbours and co-workers to donate to the Salvation Army. These online kettles can be created at www.FilltheKettle.com.
---

The views, opinions and positions expressed by columnists and contributors are the author's alone. They do not inherently or expressly reflect the views, opinions and/or positions of our publication.