Three Peat is a term created by the NBA. In fact, it was manufactured by the Los Angeles Lakers.
The term, a portmanteau of the words three and repeat, originated with the 1988-89 Lakers as they sought to win a third consecutive NBA Championship. However the Lakers, who were title winners in 1986-87 over the Boston Celtics and in 1987-88 at the expense of the Detroit Pistons, were swept by those same Pistons in the 1988-89 NBA Finals.
There's another potential threepeat in the works during the 2019-20 NBA playoffs and it again involves the Lakers. LA star LeBron James is seeking to create a unique, never-before-seen threepeat.
If the Lakers reach the NBA Finals, then King James would be playing in them for the ninth time during his career. Three times already, James has been awarded the nod as NBA Finals MVP. He won it with the Miami Heat in 2011-12 and 2012-13 and again with Cleveland Cavaliers in 2015-16.
He's one of three players to earn the NBA Finals MVP with two different teams. Should the Lakers win the 2019-20 title, and based on the NBA finals betting odds, there's a very good chance  that James would be NBA Finals MVP again and thus create a one-of-a-kind threepeat.
Let's look at LeBron's previous wins, and the two men with whom he shares the current mark for winning the NBA Finals MVP with two different teams.
LeBron James
James played in every NBA Finals between 2011-18.
2012 Miami Heat
The Heat defeated the Oklahoma City Thunder in five games. James scored 30 points in each for Miami in Games 1 and 2 of the series and 29 in the Heat's Game 3 triumph.
James averaged 26 points per game as Miami wrapped up the set in Games 4 and 5. He also dished out 25 assists over the course of those two games. He posted a triple-double (26 points, 11 rebounds, 13 assists) in Game 5.
2013 Miami Heat
There were four past NBA Finals MVPs on the floor in this series – James and Dwyane Wade for the Heat and Tim Duncan and Tony Parker for the San Antonio Spurs.
In the seven-game set, James posted series-leading totals for points (25.3) and assists (7.0) per game. He pulled down 10.9 rebounds a night. Facing elimination in Game 6, James went 32-11-10 in a 103-100 overtime victory. James scored 37 points, including five 3-pointers, and grabbed 12 rebounds to lead Miami to a 95–88 victory in Game 7.
2016 Cleveland Cavaliers
Down 3-1 to Golden State, James went off for 41 points in both Games 5 and 6 as Cleveland forced Game 7.
In the 93-89 Game 7 verdict by the Cavs, LeBron went 27-11-11 to become the third player in NBA history to post a triple double in Game 7 of the NBA Finals.
Kawhi Leonard
Leonard won the NBA Finals MVP award during his only season with the Toronto Raptors.
2014 San Antonio Spurs
Tied 1-1 with the Heat, Leonard netted a game-high 29 points as the Spurs took Game 3.
He posted consecutive double-doubles in Games 4 (20 points, 14 rebounds), and 5 (22-10) as San Antonio took the set in five games.
2019 Toronto Raptors
Leonard averaged 28.5 points per game in the series as Toronto toppled defending champion Golden State.
He was Toronto's leading scorer in two of the Raptors' four victories. He twice went over 30 points.
Kareem Abdul-Jabbar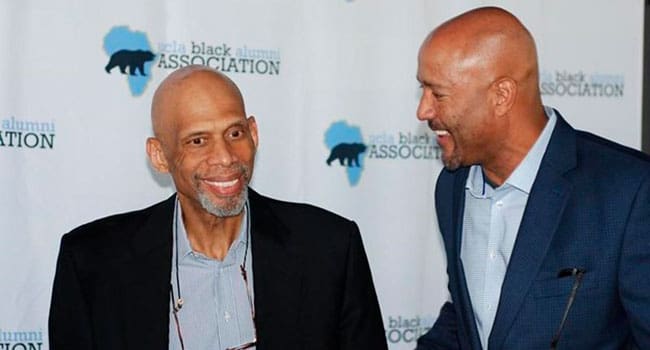 Abdul-Jabbar went the longest between NBA Finals MVP recognition, a span of 14 years.
1971 Milwaukee Bucks
Abdul-Jabbar finished the four-game sweep averaging 27 points and 18.5 rebounds per game.
He shot 60.5 percent from the field during the NBA Finals.
1985 Los Angeles Lakers
In a rematch of the 1984 final, Abdul-Jabbar averaged team-highs in points (25.7) and rebounds (9.0) per game, while shooting a series-best 60.4 percent from the field, as the Lakers downed the defending champion Boston Celtics in six games.
After being drubbed 148-114 in Game 1, Kareem hit for a double-double with 30 points and 17 rebounds as the Lakers won Game 2 109-102. He scored a game-high 36 points in LA's 120-111 Game 5 decision and then poured in a team-best 29 points as the Lakers wrapped up the series with a 111-100 victory in Game 6.
---
This content is a joint venture between our publication and our partner. We do not endorse any product or service in the article.