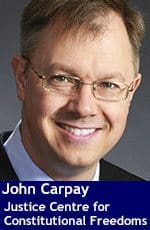 It would seem like obvious common sense that secrets should not be kept from parents about what their children are doing. Especially when it comes to other adults talking to children about sex.
Child abuse, sexual or otherwise, occurs most often when parents are absent and unaware. Countless Canadian criminal cases demonstrate that predators, abusers and bullies thrive in an environment where secrets are kept from parents.
But the spectre of a gay teenager getting beat up or kicked out by his abusive parents when they learn that he's attracted to other guys has the effect of making common sense rather uncommon.
Alberta's Bill 24 has made it illegal for teachers and principals to inform parents about what their own children are exposed to at gay-straight alliance (GSA) meetings and activities at school. Before Bill 24 became law on April 1, teachers and principals could exercise discretion as to what information to withhold from which parents. Keeping abusive parents in the dark was perfectly legal.
Importantly, decisions had to be made based on the unique needs and circumstances of each student. Moreover, in cases of actual or suspected abuse, teachers (and all citizens) are legally obligated to inform child welfare agencies when kids are, or might be, in danger.
If the Alberta government distrusted the discretion of teachers and was worried about gay teens being 'outed' to the wrong parents, it could have made it illegal to inform abusive parents about their child's participation in GSA meetings and activities.
But Bill 24 has no such nuances. All parents, not just abusive ones, must now be kept in the dark, by law.
The overwhelming majority of safe, caring, loving and supportive parents are now treated as untrustworthy enemies. They are no longer entitled to know whether their children are attending GSA meetings or events, what happens at these meetings, or what their children are exposed to or by whom.
Among those now challenging Bill 24 in court are the parents of an autistic teenage girl, who allegedly suffered severe psychological and emotional harm when public school officials apparently withheld information from the parents. At GSA meetings, the vulnerable daughter was allegedly urged by her peers and teachers to transition to boyhood, and to keep this secret from her parents. The developmentally challenged girl allegedly became suicidal before her parents learned of the confusing influences at school.
Bill 24 makes no distinction between a confused five-year-old in kindergarten, and a 17-year-old in Grade 12 who doesn't want to talk about sex with his parents. Nor does Bill 24 provide for children who are autistic, mentally challenged or developmentally delayed.
Responding to the news of schools asserting their Charter rights and freedoms against Bill 24, Education Minister David Eggen said they "will risk having their accreditation and funding stripped, period." It seems that the minister fails to understand that, under Canada's Charter of Rights and Freedoms, neither schools nor parents are obligated to obey an illegal law. In court, the minister's lawyers will have to argue against Charter jurisprudence that protects parental rights as one of the pillars of the free society.
In addition to the Charter, the Universal Declaration of Human Rights recognizes that children belong to their parents and not to the state. Canada has also ratified the International Covenant on Civil and Political Rights, which requires governments to respect the liberty of parents to raise and educate their children in accordance with the parents' moral and religious convictions.
Protecting gay teens from a very small minority of abusive parents is a laudable objective. This can be achieved without legislated secrecy that undermines the ability of good parents to love and support their children.
Lawyer John Carpay is president of the Justice Centre for Constitutional Freedoms (www.jccf.ca), which represents parents and schools in a constitutional challenge against Alberta's Bill 24.
---

The views, opinions and positions expressed by columnists and contributors are the author's alone. They do not inherently or expressly reflect the views, opinions and/or positions of our publication.