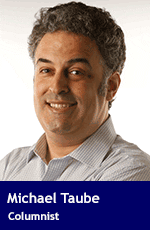 Last week's general election in the United Kingdom provided some important lessons for western democracies, including Canada.
When Theresa May was elected to replace David Cameron as Conservative leader and U.K. prime minister last July, many political observers had high hopes.
They promoted her as the second coming of the late Margaret Thatcher, even though her ideological leanings were much softer than the Iron Lady's. May has been described as a "liberal-conservative" and "one-nation Conservative," or someone who believes the state should protect citizens from all walks of life.
They also thought she would be an excellent choice to lead her country during the process when Britain leaves the European Union, or Brexit. With no disrespect to May's leadership skills, it's puzzling that someone who was aligned with the Remain campaign would be touted for this important role.
Regardless, May had a successful run. She enjoyed a 20-point lead over the opposition Labour Party and its leader, Jeremy Corbyn. He's an uber-leftist who supports high taxes, wealth redistribution and nationalizing institutions like the railways, energy companies and post office.
With everything seemingly in the government's favour, May called a snap election for June 8. If successful, the Tories would have commanded a bigger parliamentary majority. Achieving a "hard" Brexit, which would have given Britain complete border control, the ability to arrange new trade deals, and ease in abandoning the single market and customs union, would have been that much easier, too.
Alas, May's day turned out to be more of a Mayday.
The PM was a huge political liability, worse than anyone imagined. She performed poorly on the campaign trail and looked weak against Corbyn (who handled himself surprising well for the entire election) during the TV debates. Her policy platform was often short on details, and some proposals after the Manchester and London terror attacks (i.e. Internet regulation, reduced immigration, changes to human rights legislation) were immediately condemned.
Plus, a significant number of British voters lost faith in her. Calling an election with three years left on her mandate wasn't viewed as a way to deal with Brexit, but rather a selfish strategy to increase her government's influence.
That's why May and the Tories ended up with 318 out of 650 seats.
They now face a minority government situation, or hung Parliament. The PM hastily made an arrangement with the right-leaning, 10-seat Democratic Unionist Party to save her political neck, although the final details are still being worked out.
What lessons should Canada's political parties learn from this fiasco?
Our country uses the U.K.'s historical Westminster system of government. While there are some subtle differences – Canada stopped using leadership spills, or snap leadership reviews, which remain a popular tactic for May's Tories – both countries firmly believe in the cherished principles of parliamentary democracy.
Hence, Canada's political leaders could also see the benefit in calling a snap election, depending on the situation. There have been times when it worked well (Liberal prime minister Jean Chretien in the 2000 federal election), and occasions where the final result was disastrous (Ontario Liberal premier David Peterson in the 1990 provincial election).
Nevertheless, it's important to ensure a snap election call doesn't turn into a campaign that resembles a snap of your fingers.
A big lead in the polls doesn't necessarily translate into a bigger majority in Parliament. Therefore, you have to ensure the party leader is fully prepared for a snap election, the party's policies have plenty of meat on the bone, and the party's agenda is understood to be about achieving greater political stability in the House rather than pure personal gain.
In fairness, there aren't any signs that Prime Minister Justin Trudeau ever planned to follow May's lead. But if he ever contemplated a snap election before, he would be wise to stop thinking about it now.
Michael Taube, a Troy Media syndicated columnist and Washington Times contributor, was a speechwriter for former prime minister Stephen Harper. He holds a master's degree in comparative politics from the London School of Economics.
---

The views, opinions and positions expressed by columnists and contributors are the author's alone. They do not inherently or expressly reflect the views, opinions and/or positions of our publication.