Chris Nedelmann is CEO of Copeman Healthcare Centre.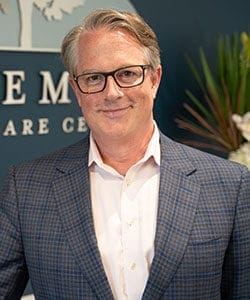 What is Copeman and its history?
Nedelmann: We started in Vancouver 14 years ago. We operate four advanced primary care facilities in Western Canada – two of those are in Vancouver, one on the North Shore and one downtown. We have a new facility in Calgary but the original one opened in 2008. And we have an Edmonton location that we opened up in 2012.
We think of ourselves as a prevention centre. But we provide a very comprehensive suite of primary care services and we're really focused on delivering excellence in care and excellence in service in an unhurried manner.
What is Medisys on Demand?
Nedelmann: Medisys on Demand is a virtual care solution that we offer to all our Copeman ongoing care program clients. It offers secure text and video consults with nurse practitioners on 24/7/365 basis. It's an app that you launch from your phone whether you're using an iOS or an Android device and within seconds of launching the app a friendly face will pop up and ask you "How can I help you today?"
What are the benefits of that app for consumers?
Nedelmann: Access to care more or less instantly, around the clock, is phenomenal. So from a convenience and access perspective, it can't be beat. The fact that you can do it from anywhere is quite compelling.
We see it as a complement to the highly-personalized face-to-face services that we've become known for and just another convenient option for our clients.
Virtual care is not for every kind of medical issue but it's good for a whole lot of issues and people just love the convenience. Dermatological things, colds and flus, sprains and strains and cuts, ear, nose throat issues. These are very common issues that our clients are getting resolved through the app and it's keeping people out of the emergency room unnecessarily, especially when you think of parents with young children.
These symptoms in their children typically pop up on the weekends or after regular hours when it's not convenient to go to a clinic anymore so they end up in emergency with long times. It's just not an appropriate visit for emergency – a cough and a cold, for example.
For the centre, what are the benefits of using this kind of an app?
Nedelmann: We're all about delivering a high standard of service and so this is a very convenient option for our clients. It proves our service levels to our clients. It's a very, very efficient way of communicating with our clients as well so our practitioners appreciate that aspect of it also.
What's the role of technology in your industry and where do you see that going?
Nedelmann: We've been huge believers in technology to help drive better outcomes for our clients. Our clients have had access to a patient portal where they can see core elements of their health chart. And if you think of yourselves as a prevention centre, a big part of success is getting patients engaged. So if you can get patients engaged in their health care information using portal technology – as kind of Fisher Price simple – that's a very important part of getting a better health outcome.
So I would say technology is a fantastic patient engagement tool and that's a big part of what drives it.
But if you think about Medisys on Demand as a virtual care platform onto which we can integrate other programs over time – like mental health program, chronic disease management programs – you're now able to start connecting patients in with much more of their medical information that's kind of behind the scenes in a way that puts that information at their fingertips.
From an engagement perspective, you're starting to put the patient or the consumer as I like to think of them at the centre of the healthcare model. When they have skin in the game, that drives good outcomes. When they have their information, that drives good outcomes.
So it's really a fantastic tool to both educate patients and help them engage in their care and get a better health outcome.
Interviewed by Mario Toneguzzi, a Troy Media business reporter based in Calgary.
---

The views, opinions and positions expressed by columnists and contributors are the author's alone. They do not inherently or expressly reflect the views, opinions and/or positions of our publication.