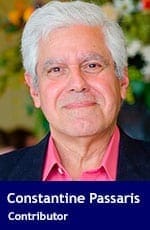 A few years ago, I was preparing a lecture on globalization. I wanted to use the word globalization as one of the pillars of the global economy of the 21st century. The problem was that globalization wasn't a new concept.
World history reveals that global linkages between countries through trade, military conquest, colonization and cultural outreach have existed since time immemorial.
Plus, the word globalization doesn't reflect the electronic and digital empowerment unleashed by the contemporary information technology and communications revolution.
So I racked my brain to find a modern equivalent for the word globalization. Many hours of contemplation and semantic searches failed to reveal a textual epiphany.
Under those challenging circumstances and fuelled by my determination to replace the word globalization with a modern equivalent, I resorted to an original wordsmith creation.
That's the context in which I coined the word internetization. To my way of thinking, internetization includes the global linkages of the word globalization and extends them by embracing the electronic connectivity and empowerment of the Internet and the World Wide Web.
Internetization has made time and geography irrelevant. Internetization has speeded up communications, reducing the time required for connectivity to mere nanoseconds. Internetization has melted geographical boundaries and made them increasingly porous and insignificant in terms of social, economic and political global outreach.
There's no denying that internetization has enhanced the quality of our lives, and made our daily tasks easier and quicker. This includes a broad range of personal activities from shopping, banking, access to government services, entertainment, travel, communication, worship to many more.
However, we need to constantly remind ourselves that internetization is a new technological frontier, uncharted territory that has also unleashed a darker side to its opportunities and outreach.
These Internet monsters include cyber-attacks, email hacking, fraud, cyber bullying, malware infections, identity theft, intellectual property hijacking, political instability and electoral compromise. This is only a short list of the invasive, illegal, unethical and immoral possibilities of internetization.
Internetization is indeed a pillar of the global economy of the 21st century. It is also a pillar of a broad social evolution, for good and bad.
Dr. Constantine Passaris is a professor of economics at the University of New Brunswick. He is the author of the chapter on The Economics of Internetization in the recently-released Encyclopedia of Information Science and Technology.
Constantine is a Troy Media Thought Leader. Why aren't you?
---

The views, opinions and positions expressed by columnists and contributors are the author's alone. They do not inherently or expressly reflect the views, opinions and/or positions of our publication.