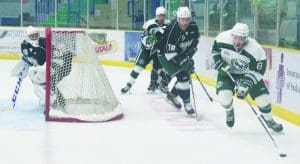 Kevin McBain
of The Clarion
The pre-season is over and the Jr. Klippers open their 25th anniversary season on Friday as they entertain the Battlefords North Stars.
Coach Geoff Grimwood hopes fans get behind the Saskatchewan Junior Hockey League team.
"We are celebrating our 25th anniversary and we hope that everyone can forget about the good weather and come on out to support the team," he said.
The evening kicks off with a tailgate party at 6:30 p.m., with live music by the high school band Western Zephyr, followed by the puck drop at 7:30 p.m.
The Klippers travel to the Battlefords for the return matchup on Saturday. These will be their first of 10 games the two teams will play against each other this season.
The Klippers will also host Humboldt next Wednesday, Estevan on Friday and Weyburn on Sept. 25.
The Klippers played three pre-season games, going 1-2.
They lost 4-1 on Thursday to Notre Dame in a game hosted by the Ochawopace Nation.
For more on this story, please see the Sept. 13 print edition of The Clarion.
© Kindersley Clarion