Kenneth Brown
of The Clarion
A sold out crowd packed a room on Saturday night at the annual Ducks Unlimited (DU) banquet in Kindersley. The banquet could end up being the most successful yet.
The DU banquet was held on Oct. 14 at the Kindersley Inn. The banquet is organized by a local volunteer committee. All 180 tickets were sold prior to the event, but there were roughly 200 people on hand for the 36th fundraising banquet in Kindersley.
People enjoyed a ham and chicken supper and they took full advantage of the house bar that night. The DU banquet features several draws, raffles auctions and games to keep people busy and entertained throughout the evening. A new game, the Crossbow Challenge, gave people a chance to shoot plastic projectiles at targets to win prizes.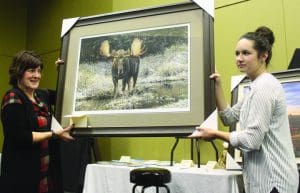 Alan Smith, a manager of events and volunteer relations for Ducks Unlimited, served as master of ceremonies for the event. Before the supper, Smith asked the local DU committee members to stand and to be recognized for their efforts.
Smith said the local committee is led by Diane Krogstad, the chairperson, and the fundraising banquets would not be possible without the hard work of the volunteer committees. He noted that two individuals are being honoured for hitting milestones with respect to their service on the DU committee.
For more on this story, please see the Oct. 18 print edition of The Clarion.
© Kindersley Clarion