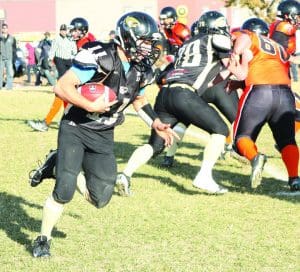 Kevin McBain
of The Clarion
The Kindersley Kobras hosted the Meadow Lake Spartans Friday in the team's regular season finalé and they came up big.
The Kobras trounced the visiting Spartans, winning by a score of 40-0 and earn first-place, with a 3-3 record, among the 3A teams in the conference, enabling them to host a playoff game.
This game ends up being a rematch against the Spartans, back in Kindersley tomorrow afternoon beginning at 4 p.m.
If the Kobras win, they will host a provincial playoff game Oct. 28th beginning at 1 p.m.
Coach Tavis Lehman was pretty happy at the way his team played.
"It is tough to criticize the way the team played in a game like this," he said. "The only thing that we may re-visit is our special team's play and make sure that everything is good there."
One of the keys of the game was getting off to a quick start.
The Kobras kicked off to the Spartans to start off the game. They went two and out.
For more on this story, please see the Oct. 18 print edition of The Clarion.
© Kindersley Clarion