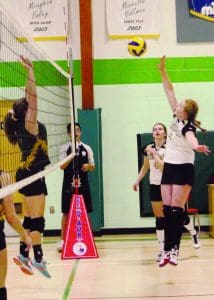 Kevin McBain
of The Clarion
The high school volleyball season is coming to a close and all the Kindersley Composite School teams have had fairly successful seasons.
The junior girls and boys volleyball seasons came to an end this past weekend with district championships.
Junior girls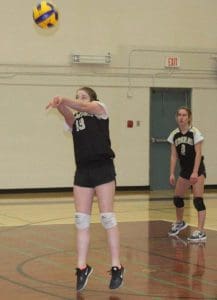 The junior girls hosted the district championships this past Saturday with four teams competing, including Plenty, Kenaston and Beechy.
The girls, coached by Tenille Kirtzinger, did well and made it into the finals, losing to Plenty in a close couple of sets.
"The girls played well," she said. "They improved a lot over the season and have shown a lot of growth. They have some very good potential moving forward she said.
Junior boys
The Kindersley Composite School junior boys competed in the district championships in Biggar this weekend and did well.
They finished second after round-robin play and took Dinsmore to three sets in the semifinals before losing.
Coach Angy Johnson said the boys did very well and mentioned that it was the first time in many years that KCS even had a junior team.
Meanwhile, the senior girls and boys continue play.
For more on this story, please see the Nov. 1 print edition of The Clarion.