Kenneth Brown
of The Clarion
An investment adviser from Saskatoon shared his expert knowledge on the federal government's proposed tax changes at a speaking engagement in Kindersley.
Colton Daniels, who has worked as a chartered accountant, is an investment adviser for the Daniels Investment Group in Saskatoon. He spoke about potential tax changes at a luncheon on Oct. 26 at the Kindersley Inn. The Kindersley and District Chamber of Commerce hosted the luncheon.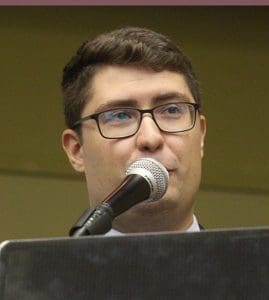 Chamber president Eric Friesen welcomed a crowd of about 45 people to the event. He said the chamber's board of directors believes that the proposed tax changes could have a big impact on small businesses and farm operations, so it's an important topic. Friesen said they thought people would have questions about the tax changes, so the luncheon was an opportunity to learn more.
Daniels spoke after people enjoyed a soup and sandwich lunch. He said the federal government's tax reform has been a much publicized concern and he would be talking about potential changes and how they could affect business owners and their clients.
The expert said he had to talk about the integration of corporate and personal income taxes because the government's tax reform is heavily tied into the idea of integration. He said he would also talk about the "nuts and bolts" of potential changes and how some less popular savings vehicles could become more popular after the changes come into effect.
A business owner who earns an income from the business pays about 12 per cent tax in the corporation and if the owner pulls money out of the corporation, he pays about 35 per cent tax on the dividend, Daniels explained.
He said the taxes combined would put the owner in the same high tax bracket as if he had earned the income from a regular wage job, so the idea is that "the total tax a business owner would pay from the corporate tax and his personal tax equals the tax that just an average employee would pay on the same amount of money earned."
For more on this story, please see the Nov. 1 print edition of The Clarion.