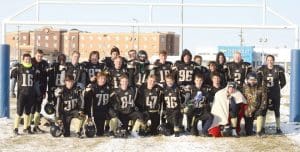 Kevin McBain
of The Clarion
The Kindersley Composite School football Kobras are off to the provincial finals for the first time in 47 years.
The Kobras defeated the visiting Humboldt Mohawks 26-14 on a cool Saturday afternoon to advance to the 3A nine-man provincial finals in Lumsden, on the quest to win the school's first-ever provincial football championship.
The weather conditions were a bit less than ideal, sitting at around -12C and the field was thick with snow Saturday morning. But thanks to the efforts of Eric Friesen and Curtis Bahm. who brought in their skid steers and volunteers who helped shovel, the field was cleared off. Heaters were donated and the sun was shining, making for not a bad day after all.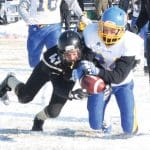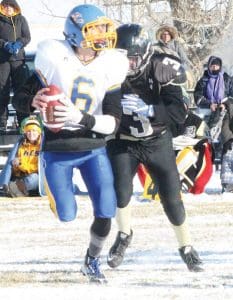 "We can't thank the parents and volunteers enough. And the donations of heaters from the businesses. Everyone really came together for this game," said coach Tavis Lehman.
The Kobras came out of the gate strong and worked their way to a 10-0 lead, after a field goal and a touchdown by Ryan Olivier.
The Mohawks responded with a touchdown on a 40-yard run by Dawson Hering to make it 10-7 late in the half.
However, the home side was quick to get back into it with Kevin Pinno scoring a major with just six seconds remaining in the half to make the score 17-7.
In the second half, it was all Kobras. With some very tight defence and ball-control offence, the Kobras were able to get the win.
Aaron Wipf scored the only major of the second half for the Kobras, making a strong run to get into the end zone. He also forced a safety late in the game to put an exclamation mark on the win for the Kobras.
The Mohawks did have a score in the second half, a kick return, to make things interesting, but they just couldn't get any closer.
Head Coach Tavis Lehman said that the guys played well and knew early that it was their game to win or lose.
"After getting the first points with a field goal and then the touchdown, we felt it was our game," he said.
Kevin Pinno scored 12 points kicking; Ryan Olivier and Aaron Wipf each scored majors, with Wipf also getting credit for the late safety.
For more on this story, please see the Nov. 8 print edition of The Clarion.