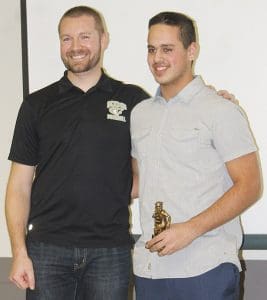 Kevin McBain
of The Clarion
The Kindersley Composite School Kobras had a lot to celebrate in 2017, culminating a very successful season with a trip to the provincial finals for the first time since 1970.
The team started off slow, earning only two wins in their first five games. Then they turned it around and won four straight games to earn a berth in the provincial high school football championships.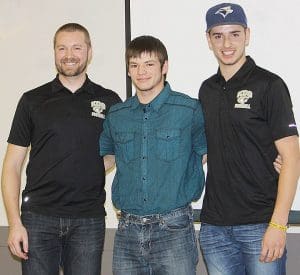 Unfortunately, their quest for the school's first provincial title fell short in Lumsden.
Members of the team, coaching staff, parents and supporters gathered at the Kindersley Elks hall last Wednesday night to celebrate the season.
The evening kicked off with a quick meeting of the parents' association, which is working on fundraising for a clubhouse. They hope it will be built in time for the 2018 season.
Following a fantastic meal, offensive co-ordinator Doug Klassen, who is famous for his speeches, shared some thoughts on the season and some life lessons that can be learned from playing football:
For more on this story, please see the Nov. 22 print edition of The Clarion.