Kevin McBain
of The Clarion
The Kindersley Red Lions split their weekend road games, losing 9-7 in Luseland on Saturday after defeating Kerrobert 5-4 in a shootout on Friday.
The Red Lions now have a record of 3-2-1 on the Sask West Hockey League season. The senior A squad hopes to improve on that this weekend as they host Macklin on Friday night and Kerrobert on Saturday.
Last Saturday, the Red Lions, got off to a quick start. Jessey Pocock started the scoring parade just 30 seconds into the game. Three minutes later, captain Jonny Calkins would bulge the twine and a minute later, Brandon Cummings would add to the lead.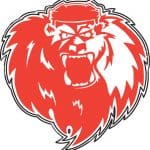 Ricky Iron and Ryan Corrigal would answer to bring the Mallards within one, before Pocock chipped in his second with 45 seconds remaining in the period to make it 4-2.
For more on this story, please see the Nov. 29 print edition of The Clarion.