Kenneth Brown
of The Clarion
The meaning of Christmas takes centre stage when Dahling Productions presents its fifth annual Christmas extravaganza to Kindersley audiences.
Dahling Productions, a local theatre company operated by Richelle Ortman, has been doing an annual Christmas production since 2013. The company's history of presentations continues with an original musical titled Christmas Spectacular: What Christmas Means to Me.
There will be four performances of the play over Dec. 15, 16 and 17. There will be one performance on Dec. 15 starting at 7 p.m., two performances on Dec. 16 starting at 2 and 7 p.m., and a performance on Dec. 17 starting at 4 p.m.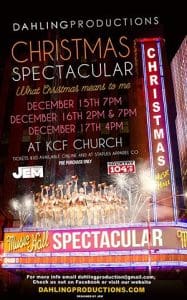 All performances take place at the Kindersley Christian Fellowship Church.
Tickets are available online at www.eventbrite.ca and also at Staples Apparel Co. on Main Street in Kindersley.
Tickets must be purchased in advance.
Ortman said there were still tickets available for all four performances as of Monday.
She encouraged people to get their tickets soon because there have been past situations when people were scrambling around at the last minute to get a ticket for a performance at a specific time.
[emember_protected for="2″ custom_msg='For more on this story, please see the Dec. 6 print edition of The Clarion.']
The local theatre company's four previous Christmas productions were based on the movie Elf, the Dr. Seuss story How the Grinch Stole Christmas, The Nutcracker ballet, and an original play based on the traditional story of the Little Drummer Boy.
Ortman said the inspiration for this year's production came from the Christmas Spectacular at Radio City Music Hall in New York City. There might not be the huge chorus line associated with the Rockettes, but people will notice similar moves by local dancers, she noted.
The play has a cast of 45 to 50 and Ortman said she focused on the strengths of people who were available for the production. There will be similarities to Dahling's four previous shows, but this year's play focuses more on singing and dancing.
"There is a story line, but we're trying to focus more on kind of a variety show," she said. The play will feature several entertaining song and dance numbers with scenes for the story line in between the musical components. "It's a new take on it this year."
Ortman said the play will take people back to the days of popular variety shows featuring entertainers such as Frank Sinatra. She mentioned that the theatre company's productions have always featured an element of humour to make them fun for everyone no matter how much patrons enjoy the musical components.
The main character in the play portrays a famous singer and actor.
Ortman said the main character performs in a 1950s variety show in the story, and people assume he has everything and his life is great.
However, he's alone and unhappy at Christmas, so people who know him try to lift his spirits by showing him what the season means to them.
She said the story line for Christmas Spectacular was written by her husband Isaiah Ortman and the idea was to do more of an original play for her fifth Christmas production. She said she's "very excited" for the curtain to drop.
[/emember_protected]