Kenneth Brown
of The Clarion
The meaning of Christmas takes centre stage when Dahling Productions presents its fifth annual Christmas extravaganza to Kindersley audiences.
Dahling Productions, a local theatre company operated by Richelle Ortman, has been doing an annual Christmas production since 2013. The company's history of presentations continues with an original musical titled Christmas Spectacular: What Christmas Means to Me.
There will be four performances of the play over Dec. 15, 16 and 17. There will be one performance on Dec. 15 starting at 7 p.m., two performances on Dec. 16 starting at 2 and 7 p.m., and a performance on Dec. 17 starting at 4 p.m.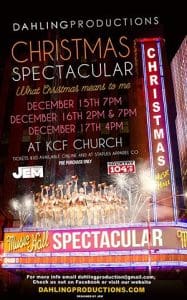 All performances take place at the Kindersley Christian Fellowship Church.
Tickets are available online at www.eventbrite.ca and also at Staples Apparel Co. on Main Street in Kindersley.
Tickets must be purchased in advance.
Ortman said there were still tickets available for all four performances as of Monday.
She encouraged people to get their tickets soon because there have been past situations when people were scrambling around at the last minute to get a ticket for a performance at a specific time.
For more on this story, please see the Dec. 6 print edition of The Clarion.