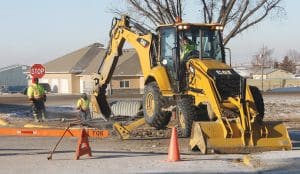 Kenneth Brown
of The Clarion
There have been three water main breaks during the 2017-18 fall and winter season with the most recent one at the corner of Eighth and Third Street West.
Water service was disrupted on Jan. 5 to several residents of Eighth Street West, all residents of King Drive and to one address on Second Street West as a result of the break. A road closure was in effect while crews worked to repair the water line to restore service.
Kim Vogel, the town's director of transportation and environment, said the town notified affected residents about the water break, and the potential for a precautionary drinking water advisory to take effect after service was restored.
She noted that the town did not have to issue a precautionary drinking water advisory because the water line did not have to be breached for crews to complete the repair. If a line is breached and opened up to the elements during the repair, a precautionary drinking water advisory has to be issued.
For more on this story, please see the Jan. 10 print edition of The Clarion.