Kevin McBain
of The Clarion
The Kindersley Red Lions will take on Biggar in the first round of playoffs.
The Red Lions closed out their Sask West Hockey League season with a win and a loss to finish the season with a record of 11 wins, seven loses and two overtime losses for 24 points, just one behind the Macklin Mohawks and 14 behind the first-place Wilkie Outlaws, who suffered just one loss this season.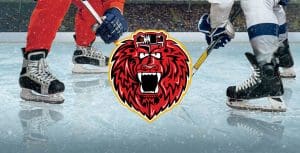 The Red Lions kicked off the weekend by hosting the Kerrobert Tigers on Friday nigh. Penalties got them in trouble in a 7-4 loss.
"We played short 14 of the 20 minutes in the second period. You just have to stay out of the penalty box," said coach Wayne Samson. "It cost us the hockey game and overall, we just didn't look good at all."
The Tigers started the scoring a minute and a half into the game, before the Red Lions picked it up and scored three straight with Byron Ismond, Brandon Cummings and Jesse Ismond finding the back of the net.
It was all Kerrobert from then on. They outshot the Red Lions 17-5 in the second and 14-4 in the third and controlled the game.
The Tigers scored the lone goal of the second period and outscored the Red Lions 5-1 in the final period to take the game. Brandon Cummings scored the lone goal for the Red Lions.
Overall, the Tigers outshot the Red Lions 41-22.
For more on this story, please see the Jan. 31 print edition of The Clarion.