Kenneth Brown
of The Clarion
Ken Francis, who is running for the Saskatchewan Party in the upcoming Kindersley byelection, has resigned from town council to focus on his election campaign.
The Town of Kindersley's former deputy mayor was in attendance for the council meeting on Jan. 29 but he submitted his formal resignation at the end of the meeting. Francis was first elected to council in a general election in October 2016. Tentative dates are set for a council byelection.
Francis was one of six candidates vying for the Saskatchewan Party nomination for Kindersley. He won the nomination to be the party's candidate for the provincial byelection at a meeting on Jan. 8.
The byelection for the provincial seat is set for March 1.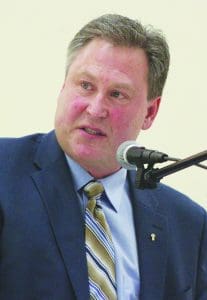 Francis, who discussed his decision with Mayor Rod Perkins, said he had two main reasons for stepping down from council when he did. There is a small 28-day window for the election campaign and with plans to visit communities across the constituency, his campaign will consume most of his time, he said.
As a matter of fairness to the mayor and council, Francis said he believed it would be best for him to resign his position. He said he could have taken a leave because it's an option but he wanted to be proactive by resigning when it made sense.
For more on this story, please see the Feb. 7 print edition of The Clarion.