Kenneth Brown
of The Clarion
The Kindersley constituency has been without a member of the legislative assembly since September but that will change with a byelection set for March 1.
Premier Scott Moe was sworn in to office on Feb. 2 by Lt.-Gov. Vaughn Solomon Schofield. One of his first orders of business as premier was to call byelections for Kindersley, Melfort and Swift Current. The three byelections all take place on March 1.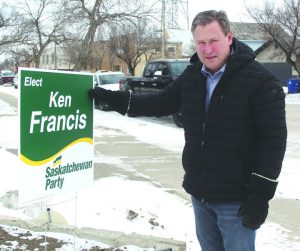 Two of the province's political parties have candidates in place for the Kindersley byelection. The Saskatchewan Party's candidate is Ken Francis, who won a hotly-contested nomination early in January. The New Democratic Party of Saskatchewan's candidate is Travis Hebert, who won an uncontested nomination.
The advanced polls will be held from Feb. 23 to 27 and the polling station for Kindersley is at Caleb Village. The advanced voting takes place on Feb. 23, 26 and 27 from 3 to 10 p.m., and on Feb. 24 and 25 from noon to 7 p.m.
On March 1, polls will be open from 9 a.m. to 8 p.m.
Candidates have until Feb. 13 to enter the race to be the next Kindersley MLA.
The constituency has been served by Bill Boyd, who resigned on Sept. 1, or Jason Dearborn since 1991.
For more on this story, please see the Feb, 7 print edition of The Clarion.