Kevin McBain
of The Clarion
The Wilkie Outlaws scored three power play goals Sunday en route to a 6-3 win over the Kindersley Red Lions in game one of their Sask West Hockey League championship series.
Game 2 will be played Wednesday in Wilkie. No other games had been set as of press time.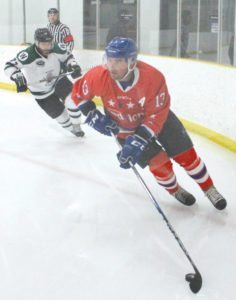 Coach Wayne Samson says that has to change if they have any hope of winning.
"We knew what they were all about. We have seen them lots," said Samson. "We have to stay out of the box. I think we deserved the penalties we received. We have to stop the stick infractions and keep our mouths shut.
"I thought we played well with them five-on-five, but we just have to stay out of the box," he added. "I know there is something going around on Twitter about the reffing, but I thought we had two pretty good refs."
For more on this story, please see the Mar. 14 print edition of The Clarion.