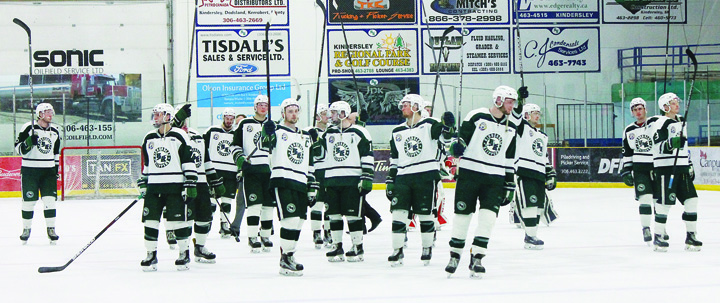 Kevin McBain
of The Clarion
The Kindersley Klippers were swept by the Estevan Bruins in the second round of the Saskatchewan Junior Hockey League playoffs.
The Klippers bowed out last Wednesday, losing 3-2 in Game 4 of their series at home. They had lost the night before, 5-0, also in Kindersley after losing the first two games by scores of 3-2 (Game 2) and 3-1 in Game 1 in Estevan.
"it was obviously disappointing to lose a series, especially when you get swept," said head coach Geoff Grimwood. "We expected more of ourselves and I think there is a little regret there."
It was a tough and very close series, with two of the games decided by just one goal. One of the most interesting stats in the series was the amount of special team goals that were scored.
Out of the 19 total goals scored in the four games, 11 were on the power play and one was shorthanded.
[emember_protected for="2″ custom_msg='For more on this story, please see the Mar. 28 print edition of The Clarion.']
"Special teams are always critical," said Grimwood. "But I've never seen this in a series. Our penalty kill had been so good all year, but unfortunately we had a tough week and it caught up to us. You blink and it's all over."
In last week's game, starting with games four, the Bruins took control of the first period, scoring two unanswered goals. However, the Klippers came back hard in the second with Tanner Thompson and Nik Malenica both scoring the power play to even things up.
The Bruins scored 6:17 into the third. The Klippers continued to press to try and even things up, but they just couldn't get another puck by Bo Didur who stopped 32 of 34 shots on the night.
In Tuesday's game three, It was all Estevan as the Bruins scored their first three goals on the power play and just held the Klippers in check in a 5-0 win.
The team's playoff Most Valuable Player was Nik Malenica who had an outstanding series as an individual.
"He played real hard and we relied on him a lot," said Grimwood. "He may not have put the most points up on the board, although he was finding his touch near the end of the series, but he was a very strong player for us."
The Klippers graduate six 20-year-olds this year: Tanner Thompson, Cole Plotnikoff, Curtis Peck, Brody Ryberg, Keillan Olson and Nik Malenica.
Grimwood said that they will be missed.
"A team obviously relies on their 20-year-olds to play a big part for your team and they did well for us," he said.
Fortunately, there are only six graduating as compared to many teams that carry eight.
"We have 17 eligible returning players for us next year and we expect big things for next season and we think we can take that next step forward," said Grimwood.
The Klippers will next be on the ice for their annual spring camp, from April 20 to 22 for players between 1999-2003. Go to klippershockey.com to register.
[/emember_protected]