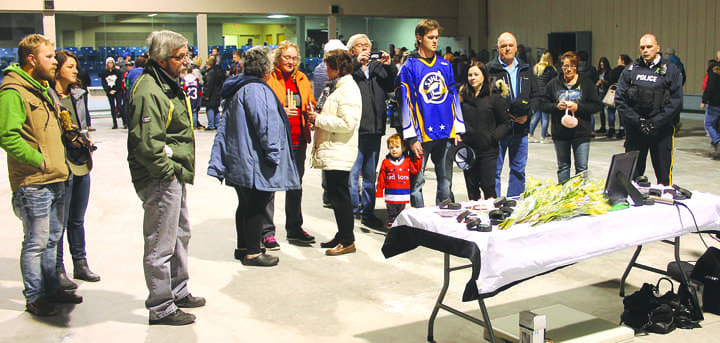 Kevin McBain
of The Clarion
In the blink of an eye. Friday, April 6 will be a day that won't be soon forgotten in Saskatchewan.
A tragic accident occurred between a semitrailer and a bus carrying members of the Humboldt Broncos headed to Nipawin for game five of their Saskatchewan Junior Hockey League playoff series.
In a blink of an eye, half of the team was gone. Imagine taking the most current team photo and folding the paper. Gone in an instant. Fifteen players and team personnel were killed and another 14 were injured – several critical, others will be able to move on, physically, more quickly.
The accident occurred when a semi trailer truck collided with the bus. The investigation is ongoing.
This has affected not just the team, not just the families, not just Humboldt, but it has become a global tragedy.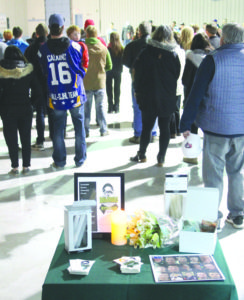 "Just the sheer number of people that were killed or injured, the age and because it happened to a busload of hockey players," said Klippers' president Brett Sautner, trying to describe why the tragedy has affected so many people.
"So many people can relate – they were young, they were a sports team, they were riding on a bus. Everyone can relate somehow and it could happen to anyone at anytime."
Thousands gathered at a vigil in Humboldt Sunday night at the Elgar Peterson Memorial arena where the Broncos called home. Millions more watched the coverage on television and more gathered at their local arena, community centre or schools at the same time to pay tribute and honour to the team and community.
We mourn the loss of the following players: Adam Herold, 16, from Montmartre; Conner Lukan, 21, from Slave Lake; Evan Thomas, 18, from Saskatoon; Jacob Leicht, 19, from Humboldt; Jaxon Joseph, 20, from Edmonton; Logan Boulet, 21, from Lethbridge; Logan Hunter, 18 from St. Albert; Logan Schatz, 20, from Allan; Stephen Wack, 21, from St. Albert and Parker Tobin, 18, from Stoney Plain. Team personnel: Statistician Brody Hinz, 18, from Humboldt; Coach Darcy Haugan, 42, Humboldt; Bus Driver Glen Doerksen, 59, from Carrot River; coach Mark Cross, 27, from Strasbourg; and radio announcer Tyler Bieber, 29, from Humboldt.
[emember_protected for="2″ custom_msg='For more on this story, please see the Apr. 11 print edition of The Clarion.']
In Kindersley, resident Jensyn Kennedy, organized a candlelight vigil at the curling club where more than 150 people came out to pay tribute.
"I was absolutely speechless when I heard what happened," she said. "I had no idea what to say or do, but I knew someone had to do something.
"It was a way for us to show our love and support," she added. "I think it was great to see so many people came out."
Jensyn said that she had billet brothers growing up and both of her brothers played hockey. It is an event that has shaken the world.
NHL players and teams paid tribute to Humboldt by wearing the Broncos names on their jerseys.
Marcus Stroman, pitcher for the Toronto Blue Jays, wrote Humboldt Broncos on his hat Saturday.
The Saskatchewan Rush held a moment of silence at their Saturday game against the Colorado Mammoth and as the game came to a close, the more than 14,000 fans in attendance chanted "Go Broncos Go."
U.S. President Donald Trump showed support and Prime Minister Justin Trudeau and Premier Scott Moe were in attendance in Humboldt and visited the injured in the hospital, as did hockey announcer Ron McLean and Don Cherry.
The Queen even issued a statement. "Prince Philip and I were saddened to hear word of the crash," she said. "Our thoughts and prayers are with those who have lost so much, with their families and with all Canadians who grieve with them at this difficult time."
Sautner heard the news fairly quickly when he got a phone call from Klippers' coach Geoff Grimwood.
"As soon as Geoff called me I knew it was going to be world news," he said. "The first thought I had was for my brothers' brother-in-law (Kevin Garinger), who is the president of the Broncos. I just had to try and get news about him.
"He wasn't on the bus, which was good. As news came trickling in and the numbers kept going up, I just got more and more tensed up," he adds.
"I don't think I slept at all Friday night and not much Saturday at all.
"There are no words to describe what happened," added Sautner. "We fight hard to give these guys a place to play. We take them in as boys and want to give them back as men. For many in this tragedy, this won't happen. I feel for the Broncos and their community. It if were to happen here, I just don't know what we would do. In a situation like this, everyone puts themselves in that situation … what if it were to happen to us, to my kids, to our team … it affects so many people."
Sautner is the president of the team and he played for the Klippers, plus he and his family have hosted nearly 20 players throughout the years. He also has children who play hockey, so this hits him at all levels.
"The players truly become part of your family. They go to the lake with your family and they just become a part of it, just like your own," he said.
"It would definitely be hard on the billet families as well."
Being a parent of two hockey players, it hits home in that way.
"As a parent, we hugged our kids when I heard. They are playing hockey and they have put on a lot of miles on buses," he said.
"You would like to wrap them up in bubble wrap, but you can't. You should hug your kids every day and pray for safety when they are on the road."
He adds that it is fortunate that more accidents don't happen like this, considering the many miles that are put on by drivers and teams each year, saying that he put on about 10,000 km on the bus that he drives last year.
Grimwood said he was shocked when he heard the news.
"I got the news fairly quickly Friday because of the position I hold," he said. "When you deal with young people all the time you expect minor things like bumps and bruises, but you can never prepare yourself for something like this.
"I knew this was serious right away and things escalated so quickly," added Grimwood. "This was a disaster-level accident. It was definitely a nightmarish Friday."
Grimwood went into the Royal University Hospital on Saturday to help in whatever way he could – whether it was to book a hotel room or whatever.
"I hope that I helped in some way at least," he said.
He adds that it is definitely something that he hopes will never happen again.
"We travel these roads all the time, overnight, in bad weather … I definitely feel bad for the Broncos organization and everyone affected," said Grimwood.
"It is a tragedy that everyone can relate to. Everyone has been on a bus at some point."
Grimwood just wanted to add a hat's off to the drivers and bus companies that they deal with and that they are in great hands. He went on to say that the club has offered any help that they could give to the organization and community, but also said that the club's number one priority is their players to make sure they are okay and get help for them is needed.
"We want to make sure our players have the support they need. Things are definitely better than they used to be 20 years ago. People understand more now that they need to get support and talk things out and we need to support them in that way."
Dave Halpenny, who attended the vigil Sunday night in Kindersley, has been an incredible supporter of the Klippers and of junior A hockey for more than two decades and he says that it's a shock to the system.
"It's devastating. You just don't think anything like this could happen," he said. "It's heart wrenching. There are so many people affected by it and just to know that it could have happened to anybody. There were hockey players on this bus, but it could have been anyone. We feel their pain."
Former head coach Dean Brockman said in an interview, "The pain and the suffering doesn't go away. It subsides a little, but the scars will always be there. But people will honour that team forever."
Incredible support
It started at $10,000 as a goal on the GoFundMe page for the Broncos started by a resident of Humboldt. That quickly went over the top and the latest goal was $4 million, which was surpassed quickly as well, and as of Tuesday at 11:45 a.m. the amount raised was almost $7.3 million, which will all go to the players and their families.
It is now among the top five fundraising projects on GoFundMe. There are also other pages including one for coach Darcy Haugan, who left behind a wife and two young children, and several players.
Several hockey teams from senior up to the NHL have already or will be donating their 50/50 proceeds to the Humboldt Broncos and for sure, more will come in.
Moving forward
A meeting has been called for Wednesday at noon to see what is next for the league. The Nipawin Hawks were up three games to one in the SJHL semifinal series. The Estevan Bruins already punched their ticket to the finals.
[/emember_protected]