It's a mansion fit for a queen. It ought to be: Rideau Hall, after all, is where Her Majesty bunks down whenever she's in town. And whether she's here or not, her Canadian representative, the Governor General, works and lives on the premises.
Fortunately, the villa is open to the public and. last summer, I felt a patriotic pull to explore the regal 32-hectare grounds. Besides, I wanted to check out where some of my taxes are going.
You know you're in grand company before you pass through the wide iron gates: standing sentry are two members of the ceremonial guard, an armed forces regiment known for its daily changing of the guard ceremony on Parliament Hill. At Rideau Hall, the guards stand still, used to attempts by the odd impish visitor to break their stone-faced sobriety. If you're lucky, you'll catch their own small changing of the guard ceremony, held hourly each summer day.
Highlight of any visit, of course, is a guided tour of the house itself. Most of its 175 rooms are offices and the Governor General's relatively modest private residence; the tour, it turns out, is limited to five ground-floor rooms. But they're impressive and are where a dazzling number of official functions occur: investitures of Order of Canada recipients, the swearing-in of federal cabinets, the presentation of bravery medals, even an annual award for public-service journalism.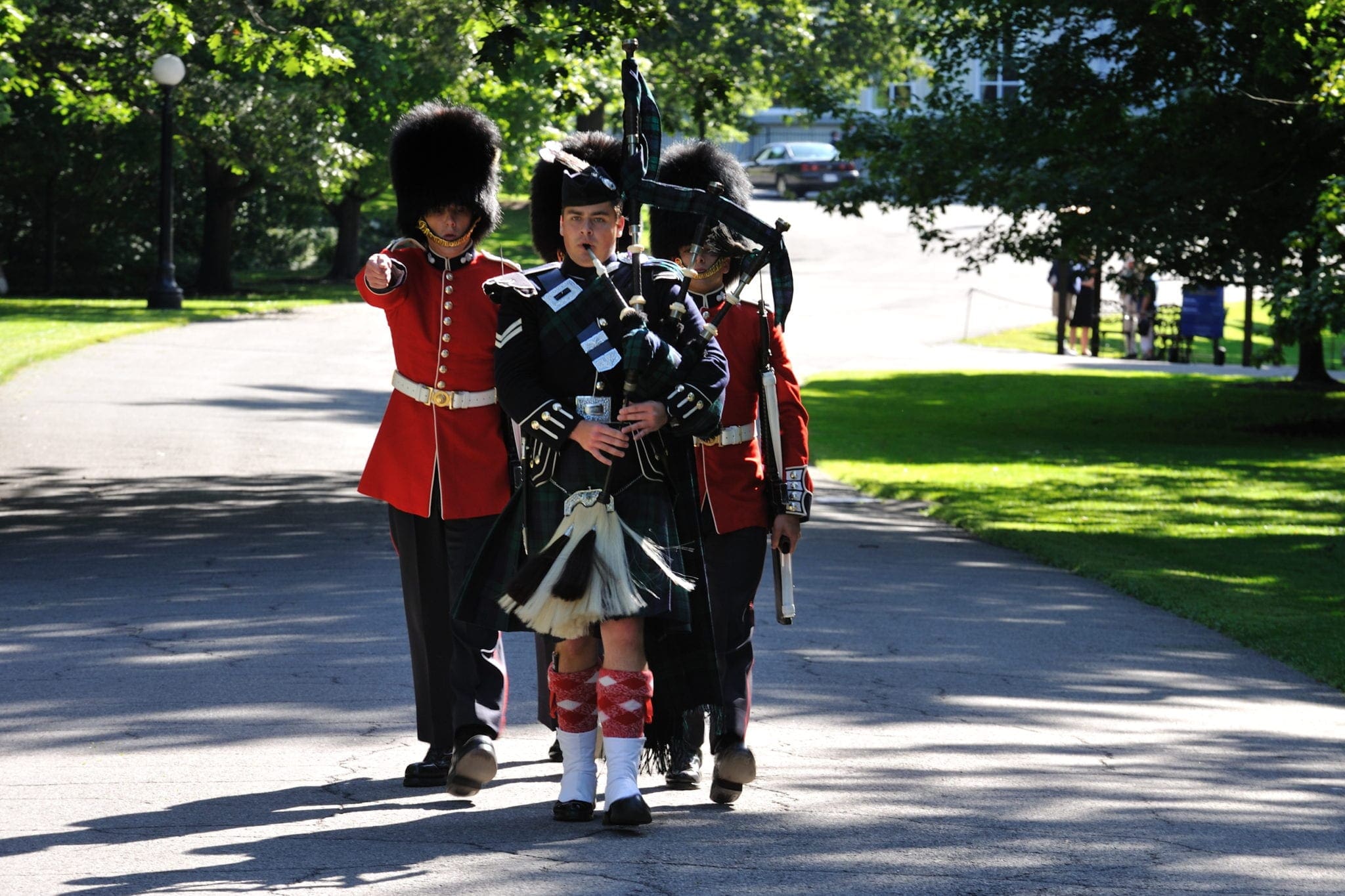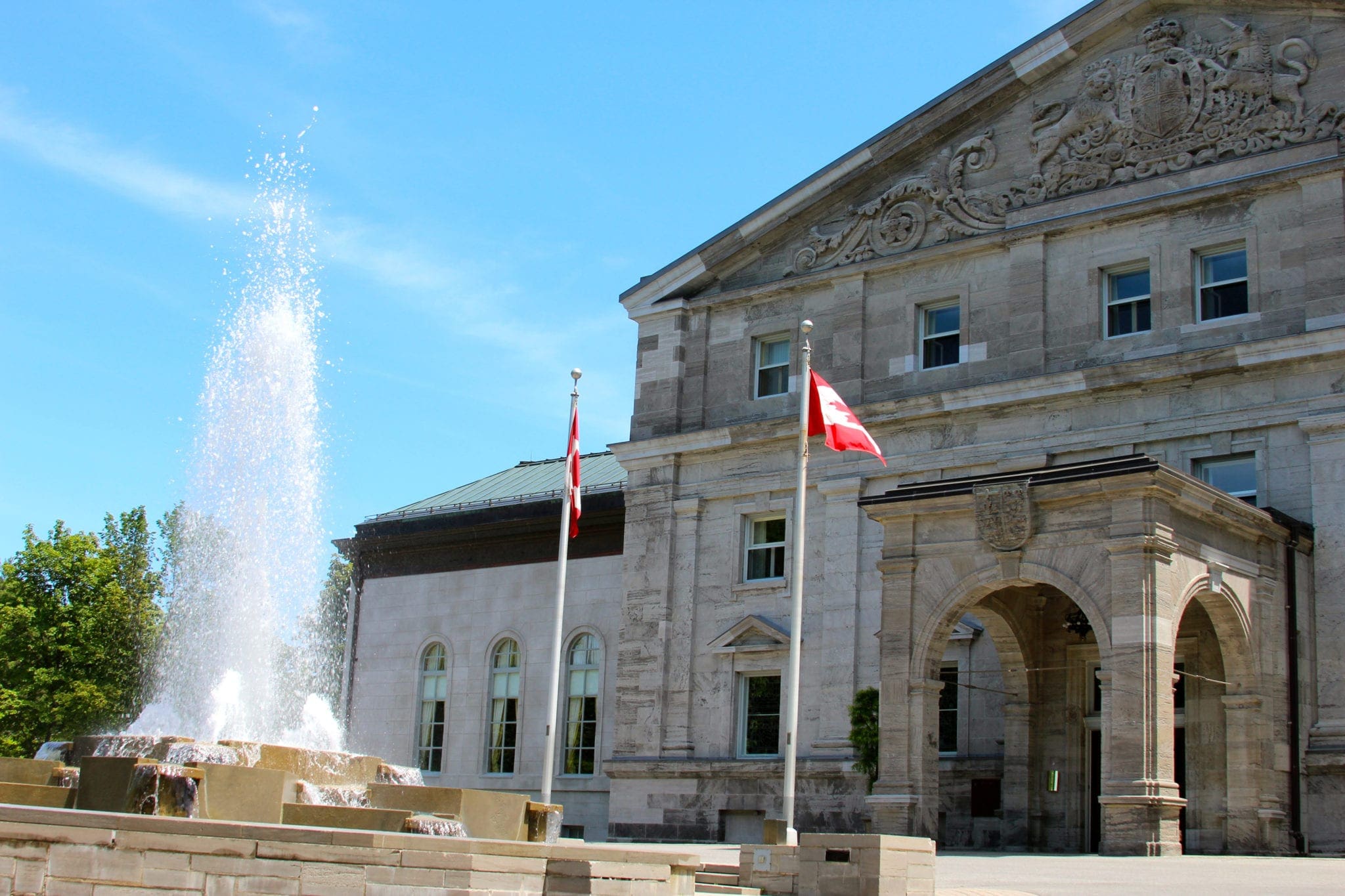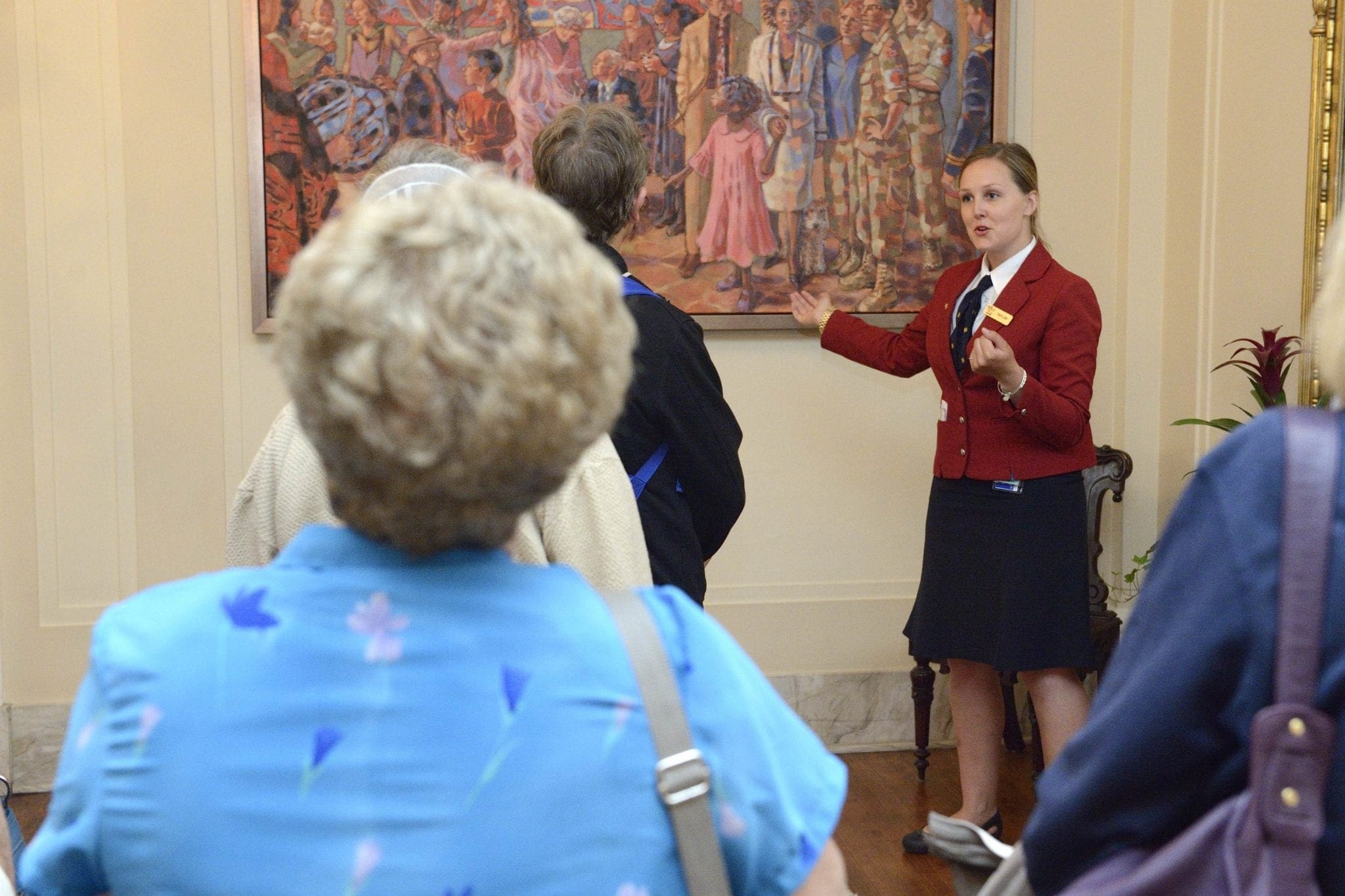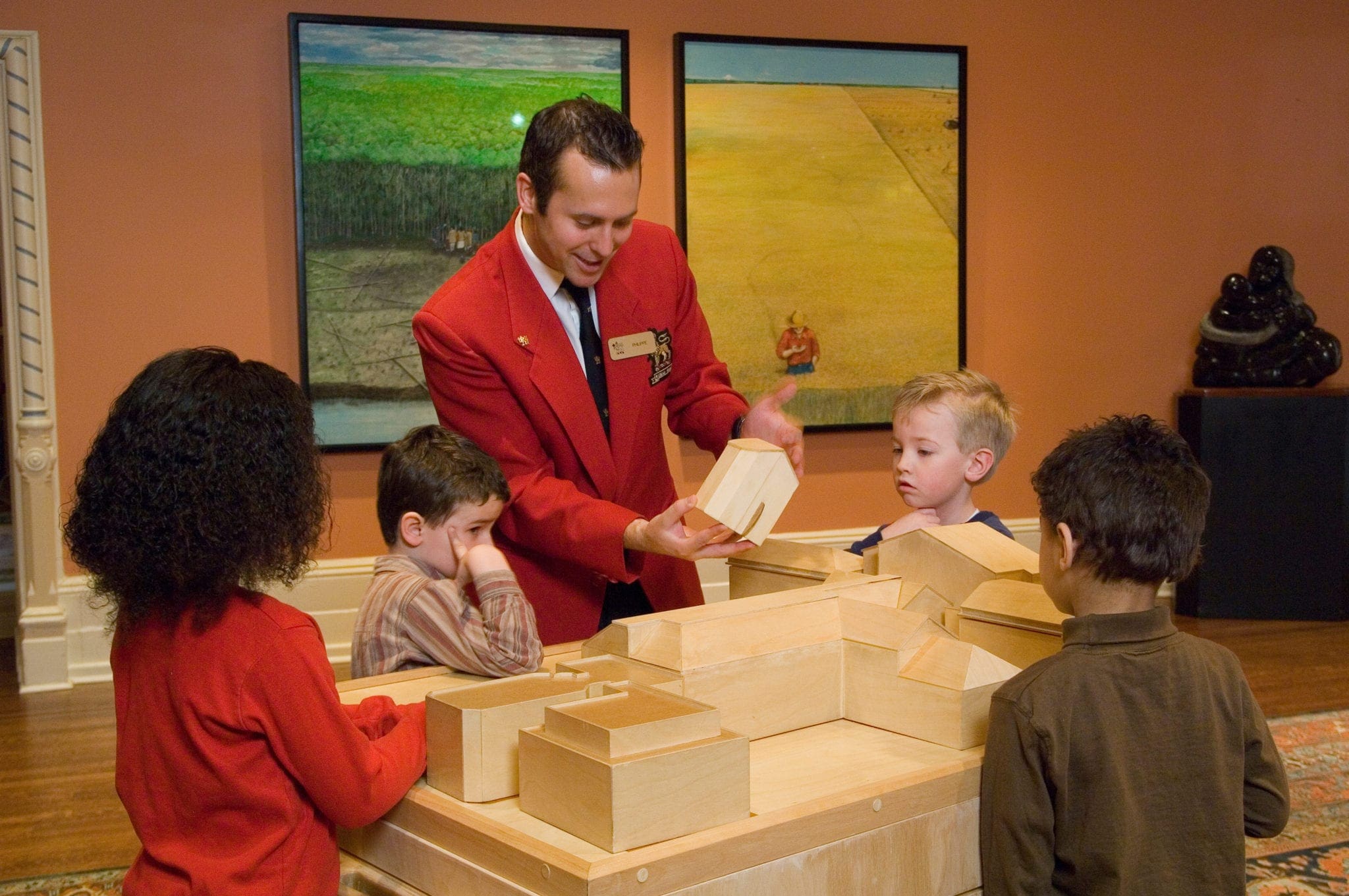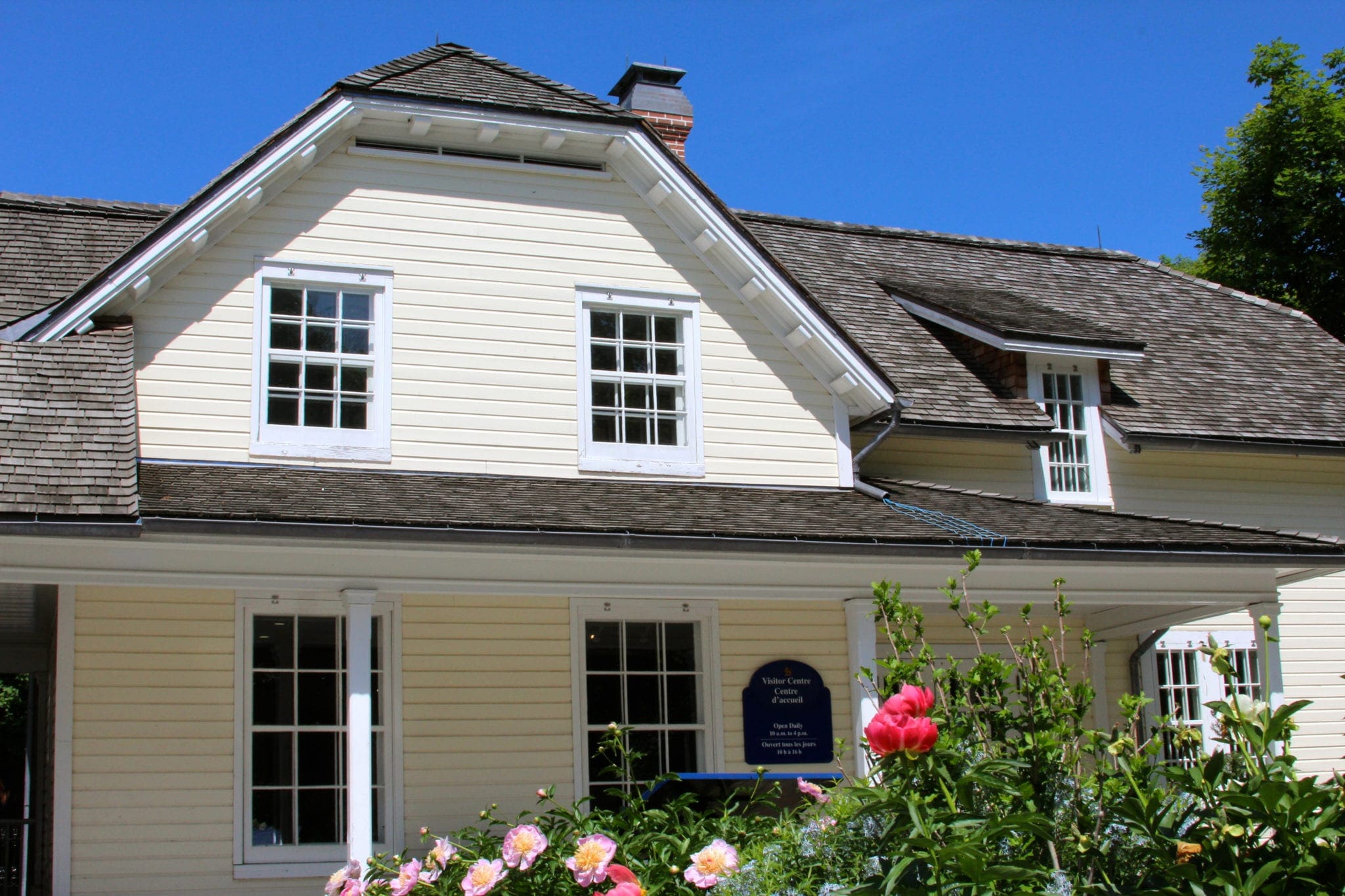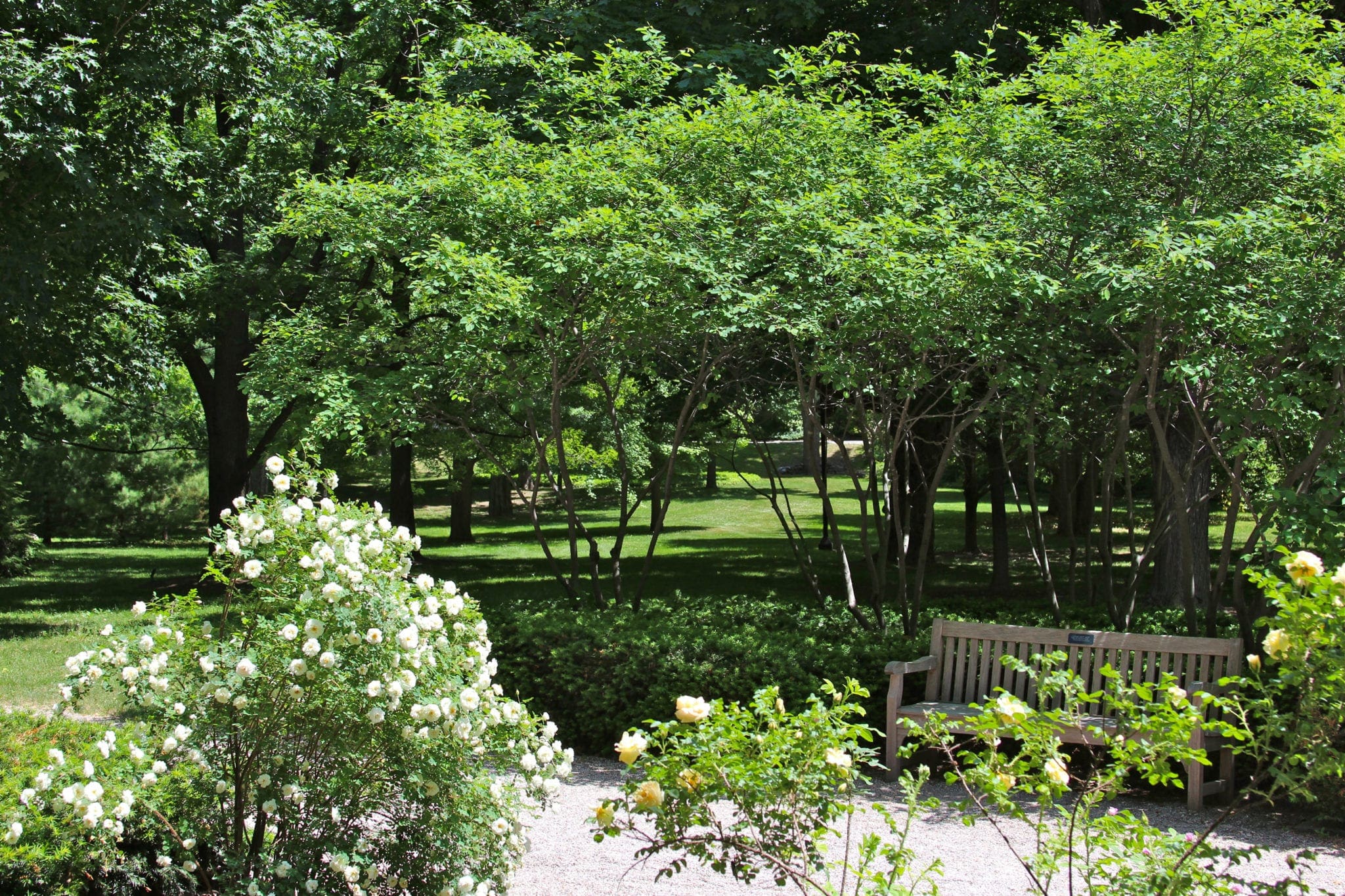 During the 45-minute tour, you'll hear about the functions a Governor General performs. Some of them, such as giving non-partisan policy advice (and warnings) to the Prime Minister, are generally well known. But each incumbent is also the commander-in-chief of the armed forces and even heads up Canada's heraldry authority, the body that approves Canadian coats of arms.
You'll be reminded that only in 1952 was a Canadian, Vincent Massey, appointed to the job and that ever since the position has alternated between an anglophone and francophone.
You'll see from official portraits gracing the entrance foyer that, just as is true of the royal family, the governors general have become less formal over time. Earlier ones posed stiffly in uniform, a band of medals across their chest. By contrast, later ones are dressed in cardigans (Romeo Leblanc) and parkas (Adrienne Clarkson) or are surrounded by family and dog (Michaëlle Jean).
The house is filled with Canadian art, including a series of paintings on the Ukrainian pioneer experience by William Kurelek, and the former piano of Glenn Gould, on which former governor general Michaëlle Jean apparently played a late-night duet with the visiting Empress of Japan. The décor is stylishly tasteful, even to the 10,000-piece Waterford crystal chandelier that illuminates the pastel blue and cream ballroom.
There is whimsy here, however, perhaps nowhere more than the vibrant tent room. It's festooned with striped red and white canvas billowing from the ceiling down along the walls, carrying on a tradition that began in the 1870s when Lord Dufferin was Governor General. At that time, the space was actually a tennis court covered by a tent for dinner parties.
Indeed, that's a surprising bit of history learned on the tour: the house has grown like Topsy over the years.
Originally built in 1838 by Thomas MacKay, who became rich from construction of the Rideau Canal, it has undergone various additions since becoming Government House in 1867. Those additions weren't necessarily well-planned. The main wings on either side of the main door aren't aligned, for example. The central façade is designed to obscure that error, as well as the fact that a jumble of materials was used.
A visit outside can be a treat on a humid summer's day. The rolling property is designed like a traditional English country estate, complete with winding pathways and a cricket pitch (where the local club plays weekend games).
Plenty of trees (10,000 and counting) cool things down. Many of the trees were planted by visiting dignitaries, and it's fun to read the plaques identifying each. Find the red oak that gave U.S. President John Kennedy back pain for the rest of his life: digging the ground exacerbated a dormant war injury. Or the eastern hemlock planted by William and Kate when the royal newlyweds visited Canada in 2011. Or the gingko planted by the Chinese president in 1985 – one of the few non-native species here.
Flower lovers will enjoy the profusion of roses that surround a reflecting pool and celebrate the cultural diversity of Canada. Along the way you'll see a totem pole by Kwakiutl carver Mungo Martin, an inuksuk from Cape Dorset, a fountain in honour of Terry Fox, and curving stone archways that celebrate pivotal moments in Canadian history.
And in the visitor centre, which used to be the gardener's cottage, you'll find artefacts that flesh out the story – everything from original state dinnerware to letters of introduction presented to the Governor General by new ambassadors to Canada. There's even a popular picnic area where, at least metaphorically, you can dine with the Queen.
IF YOU GO
From June 28 to Sept. 1, free guided tours are scheduled daily from 10 a.m. to 4 p.m.; no reservation is required. At other times, hours may vary and reservations may be required. For details, click here.
| Peter Johansen
---

The views, opinions and positions expressed by columnists and contributors are the author's alone. They do not inherently or expressly reflect the views, opinions and/or positions of our publication.