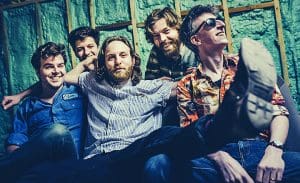 Kenneth Brown
of The Clarion
An energetic folk rock band from Ontario will perform in Kindersley on Monday night.
Union Duke, a quintet from Toronto, is known for its explosive live show. The band's literature says sweat flies and floorboards tremble when Union Duke performs its blend of soulful independent rock mixed with bluegrass and country.
The band will use three-, four- and five-part harmonies.
Union Duke hits the stage at the Norman Ritchie Community Centre on Nov. 6 at 8 p.m.
The concert is the second of eight in the Kindersley and District Arts Council's 2017-18 Stars for Saskatchewan performing arts series.
Tickets for arts council shows are available at Lela's Music Centre, LaBelle Boutique and Integra Tire. Tickets are also available online at www.ticketpro.ca or at the door if the show is not sold out. Tickets are $26 for adults and $11 for children 12 years old and under.
For more on this story, please see the Nov.1 print edition of The Clarion.