Kenneth Brown
of The Clarion
Harold Appleby has been a member of the Kindersley Masonic Lodge for 63 years and his influence on a provincial grand master earned him special recognition.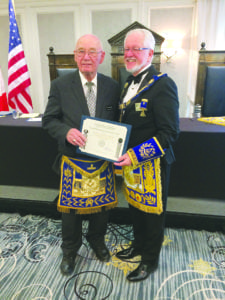 The long-time Mason has received the Grand Master's Masonic Meritorious Service Award, a provincial honour that is given out at the direction of the Grand Master of the Grand Lodge of Saskatchewan. The award was presented to Appleby on June 16 at the 2018 provincial Grand Communication.
According to an official, Appleby is the first recipient of the meritorious service award in the past three years and he was the only recipient this year. The award is only handed out when a grand master chooses to do so.
In an interview, Appleby, who is referred to within the lodge as a Right Worshipful Brother, said he earned his title by performing certain roles within the organization. He noted that he did not know he was about to receive the award when he travelled to Saskatoon for the provincial lodge's Grand Communication.
For more on this story, please see the Jul. 4 print edition of The Clarion.