Kenneth Brown
of The Clarion
The 2018 Fertile Valley Baseball League regular season came to an end on Monday night, and a pair of Kindersley teams are part of the playoff picture.
The Kindersley Raiders have secured a first-round bye thanks to finishing in second place in the FVBL standings with a record of 9-2. The Kindersley Stallions finished in fourth place and they are set to play the Outlook River Hawks in the first round quarter-final series.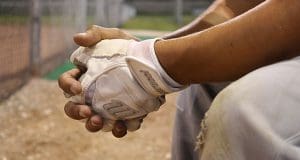 The Stallions finished their sophomore season in the league with a record of 8-3. The five-time league champion Rosetown Angels finished in third place with a record of 9-2, and first place was locked up by the Oyen Eagles with their 10-1 record.
It was the Eagles first year in the league, but the team is far from new. The Eagles spent several seasons playing in the Sask-Alta Baseball League, and the team has won its fair share of championships in the past.
For more on this story, please see the Jul. 11 print edition of The Clarion.