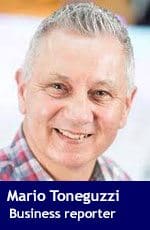 CN reports net income of $1.134 billion in the third quarter of the year, an 18 per cent hike from a year ago for the railway company.
It also reported that 22 of 27 capacity expansion projects have been completed this year.
Revenue in the quarter increased by 14 per cent to $3.688 billion.
"Our dedicated engineering team delivered, putting more than 80 per cent of our infrastructure expansion projects fully in service at a time when the network was under heavy traffic," said Jean-Jacques Ruest, president and chief executive officer of CN, in a statement. "Our 2018 resource investments are substantially advanced, giving our railroaders the tools they need to provide industry-leading service to all of our customers now and for the long haul.
"We continue to see strong opportunities ahead, across multiple existing rail commodities and new supply chain services. The balance of our expansion projects remains on track for completion before winter and our one team is energized to execute our proven operating model as we meet the growing economic needs of our customers."
Other financial highlights for the quarter include:
diluted earnings per share (EPS) increased by 21 per cent to $1.54;

adjusted net income increased by 11 per cent to $1.102 billion;

adjusted diluted EPS increased by 15 per cent to $1.50;

operating income increased by eight per cent to $1.492 billion;

revenue ton-miles (RTMs) increased by four per cent and carloadings increased by three per cent;

operating expenses increased by 19 per cent to $2.196 billion.
"Revenues increased for petroleum and chemicals (C$133 million or 25 per cent), grain and fertilizers (C$76 million or 15 per cent), intermodal (C$70 million or eight per cent), forest products (C$68 million or 15 per cent), metals and minerals (C$61 million or 15 per cent), coal (C$34 million or 25 per cent), other revenues (C$20 million or 10 per cent) and automotive (C$5 million or three per cent)," said CN.
"The increase in revenues was mainly attributable to higher applicable fuel surcharge rates, freight rate increases, the positive translation impact of a weaker Canadian dollar, as well as higher volumes."
Mario Toneguzzi is a veteran Calgary-based journalist who worked for 35 years for the Calgary Herald, including 12 years as a senior business writer.
---

The views, opinions and positions expressed by columnists and contributors are the author's alone. They do not inherently or expressly reflect the views, opinions and/or positions of our publication.