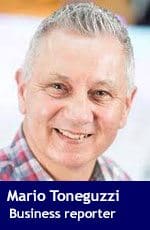 Energy giant Imperial Oil reported on Friday that its estimated net income in the third quarter of 2018 was $749 million, an increase of $378 million compared with the net income of $371 million in the same period of 2017.
"Imperial's focus on reliability led to record gross production at Kearl of 244,000 barrels per day in the quarter, 20 per cent, or 41,000 barrels per day, higher than the previous record. The strong performance increased year-to-date production to 202,000 barrels per day. With overall upstream production of 393,000 gross oil-equivalent barrels per day, up slightly from 2017, upstream earnings were $222 million, the highest level in four years," said the company in a news release.
It said the downstream continued to deliver strong results with quarterly earnings of $502 million and refining throughput averaged 388,000 barrels per day and petroleum product sales averaged 516,000 barrels per day, the highest quarterly sales in nearly 30 years.
"Our refining network, access to logistics and ability to process price-advantaged crudes, both heavy and increasingly light, have been key factors in downstream performance year-to-date," said Rich Kruger, chairman, president and chief executive officer.
"Looking ahead, in the current challenging upstream price environment, we are uniquely positioned to benefit from widening light crude differentials."
In terms of future growth potential, the company said, regulatory approvals for the Aspen in-situ project and Cold Lake expansion project were recently received.
"Both projects would utilize solvent-assisted, steam-assisted gravity drainage (SA-SAGD) technology to recover the bitumen resource. The regulatory approvals would support bitumen production of up to 150,000 barrels per day for the Aspen project and up to 50,000 barrels per day for the Cold Lake expansion project. The regulatory approvals are currently being reviewed. No final investment decisions have been made at this time," said the company.
It said capital and exploration expenditures totalled $376 million, compared with $159 million in the third quarter of 2017. Total capital expenditures for the year are anticipated to be between $1.3 billion and $1.4 billion.
Mario Toneguzzi is a veteran Calgary-based journalist who worked for 35 years for the Calgary Herald, including 12 years as a senior business writer.
---

The views, opinions and positions expressed by columnists and contributors are the author's alone. They do not inherently or expressly reflect the views, opinions and/or positions of our publication.