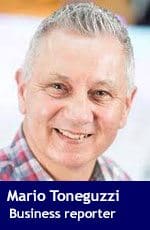 Mainstreet Equity Corp. says the apartment rental company managed to not only survive but thrive in 2018, producing its best annual results since the recession began in 2014.
For Fiscal 2018, which ended Sept. 30, this included a return to double-digit growth across all of its key real estate metrics. Net operating income grew 12 per cent while funds from operations per share grew 18 per cent and rental revenues increased 11 per cent.
"After beginning the year under incredibly difficult circumstances, our earnings for fiscal 2018 mark a promising return to double-digit growth across all of our main metrics," said Bob Dhillon, founder and chief executive officer of Mainstreet.
"This substantial achievement is the direct result of our long-term strategy, stretching over the past three years, to take advantage of the economic downturn. Despite market volatility, management has continued to expand our portfolio without diluting the value of Mainstreet shares."

Mainstreet's same-asset vacancy rate dropped to 6.3 per cent in its fiscal fourth quarter compared with 9.6 per cent in fourth quarter 2017, while same-asset revenues increased 5.2 per cent to $27.0 million, up from $25.7 million in Q4 2017.
"We believe these achievements are partly due to a long-term countercyclical strategy crafted more than three years ago by Mainstreet management, who had anticipated a major shift in the broader economy," said the company in a news release.
"The plan included boosting our acquisitions, locking in the majority of our debt at ultra-low, CMHC-insured levels, and rapidly converting more units to wring maximum value out of our existing assets. This paved the way for Mainstreet to achieve a few significant financial milestones. Fiscal 2018 marked the largest acquisition year in Mainstreet history, in which we grew our portfolio by 1,717 units including subsequent acquisition to over 12,000 residential units, or close to $1.9 billion in total asset value. The corporation also expanded its portfolio to include the Regina, Saskatchewan market, and converted a record number of units over the year, stabilizing a total of 705 units."
Mainstreet improved its occupancy rate to 93.3 per cent at the end of the year, up from 89.3 per cent a year earlier. As of Dec. 1, its occupancy rate further improved to 93.9 per cent excluding 60 units under complete re-construction.
"Macroeconomic uncertainty remains a key challenge for Mainstreet. This has been compounded in recent years by rising operating costs due to carbon taxes, interest rate increases, higher property taxes, higher minimum wages, and higher expenses tied to the conversion of apartment units," it said.
"The carbon tax in Alberta, which is set to increase annually over the next several years, targets property owners and therefore raises our energy costs in the province. This comes as the introduction of a federal carbon tax, beginning in 2019, is expected to raise costs in our Saskatchewan portfolio. Property tax hikes and the raising of the minimum wage to $15 per hour in the province of Alberta also drove up operating expenses.
Higher operating costs come as interest rates are expected to continue to rise through 2019 and possibly 2020, increasing the cost of Mainstreet's future debt."
---

The views, opinions and positions expressed by columnists and contributors are the author's alone. They do not inherently or expressly reflect the views, opinions and/or positions of our publication.