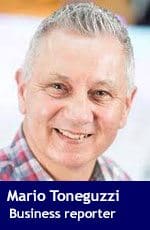 Former Canadian Olympic skier Cary Mullen believes he's found the perfect location for Canadians to purchase affordable, low-tax luxury resort properties.
Mullen, founder of Vivo Resorts, is the man behind the gated community in Puerto Escondido, Mexico.
"Puerto Escondido is the perfect holiday destination with sunny temperatures that rarely change more than three degrees year-round, beautiful coastlines and beaches, and access to the best authentic Oaxacan living," said Mullen.
"I spent a lot of time researching and visiting over 30 destinations to find the perfect place for our community and chose our location at Puerto Escondido due to 44 contributing factors that made it an amazing place to be and beneficial for our homeowners and investors.
"Puerto Escondido in Oaxaca is becoming a destination of choice for both tourists and developers looking for new properties. Steadily rising air passenger volumes and significant new highway developments mean properties in this region will become more and more appealing, and more and more sought-after. More people are already discovering the magic and charm of this sunny ocean paradise."
Mullen said Vivo Resorts has more than 100 condominiums built in seven towers, including a clubhouse with commercial and amenity space.
They range in size from 765 square feet to 1,852 square feet, with prices from US$232,900 to the largest suites starting at US$624,900.
"In the future, we'll have in excess of 500 condominiums. We also have private homes. At build-out, we'll have about 100 of those. We have around 14 constructed so far," said Mullen.
He said there are no speculation taxes and closing costs. And yearly property taxes are also much lower than many North American resort properties.
Mullen said Puerto Escondido is an emerging region for property development within a mostly untouched area of Mexico renowned for its coastal lifestyle and unique cuisine.
He said Vivo Resorts offers the best of beachfront living, including world-class surfing, sports fishing and diving opportunities in the area. The resort itself includes standout amenities such as a new $7-million clubhouse, infinity pools, luxury spa, fine dining restaurants and bars.
According to Vivo Resorts, the population of Puerto Escondido is anticipated to grow by 50 per cent over the next 10 years, with an estimated $50 billion in planned and scheduled infrastructure upgrades to be invested.
---

The views, opinions and positions expressed by columnists and contributors are the author's alone. They do not inherently or expressly reflect the views, opinions and/or positions of our publication.