Eileen Halpin-Tarrant is president of client services, broker of record (Ontario), and managing broker (British Columbia) with Oberfeld Snowcap Realty, Brokerage.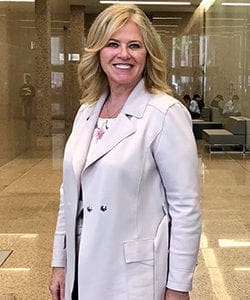 What is Oberfeld Snowcap and what does it do?
Halpin-Tarrant: Oberfeld Snowcap is a national real estate advisory firm focusing primarily on retail real estate and tenant representation across Canada. Our core asset and product is our people and their knowledge and expertise. We are trusted advisers who bring a nuanced understanding of the retail landscape, which adds value for our clients.
Our client services include retail expansion and rollout strategies (such as market analysis, site selection, lease negotiation), along with portfolio evaluation, and restructuring services. We also offer landlord services; we are a full service brokerage firm, after all! We're fortunate to have an experienced team focusing on enclosed malls, power centres, high streets, open air centres, lifestyle centres and mixed-use urban as well.
Ultimately, we think of ourselves as strategic partners with our clients, and we've been fortunate to work with many major retail brands since their inception.
We're celebrating our 40th anniversary in business this year, and that sort of longevity is rare for any business. We've achieved this because the driving principle behind our success has been staying power. We are committed to the long-term success of our clients, the growth of our people, and the pursuit of industry insight and knowledge at the highest level.
Where are your offices located in Canada?
Halpin-Tarrant: We have a strong presence across the country with market intelligence from coast to coast, with offices in Montreal, Toronto, Calgary and Vancouver.
What is the retail landscape like in terms of vacancy?
Halpin-Tarrant: Real estate in Canada is not unlike other major developed markets in the world. Vacancy rates vary from market to market. Vacancies appear in overpriced real estate or real estate that exhibits some element of risk such as lower traffic or weak co-tenancy.
Big box retail remains vulnerable. Landlords reacted quickly and had back-fill options lined up for the large space Target left behind when they exited Canada. However, the demise of Sears has left many landlords searching once again for large format tenants. The problem is that many big-box tenants are either downsizing or rolling back growth targets because the occupancy costs of these large spaces no longer work for them.
Recently it's been experiential, food and beverage, and service-based retail that has stepped up to fill the gaps left by these large format vacancies. However, landlords are running out of options and are turning to either non-retail options or redevelopment in the absence of available tenants.
Many retailers who are looking to grow are being more selective these days. They don't need to add risk to their portfolio unless the deal is accretive to their business plan. Alternatively, we continue to see a strong demand for retail space in smaller formats, and especially in the food and beverage and service categories.
What are some of the key trends you're seeing in the retail industry?
Halpin-Tarrant: This year, I'm celebrating my 35th year in the industry (started when I was a mere child!). Suffice to say, I've lived through a lot of change and have seen many retail trends (and unfortunately retailers) come and go.
I think we're living in a time unlike any other I've witnessed. It's common to say that real estate is cyclical and that has historically held true in the retail sector as well. These days, we are continually finding ourselves in uncharted territory as online shopping and digital enhancements to the retail sector are disrupting the status quo.
As consumers, we're more informed on products and pricing than ever, and now we're seeing ethical consumerism take centre stage as sustainability is at the forefront of many shopping decisions. Retailers who are thriving in this new environment are continually innovating to provide a consumer experience that matches the values of their customer. Landlords are seeing less fashion in their merchandising mix and more restaurants/entertainment concepts. It's all about dwell time. How can they captivate that customer and entice them to spend more time in the shopping centre?
Pop up retail is here to stay. As more e-tailers test their product offline, the need for pop-up retail will continue to grow. The term 'showroom' space is being adopted by many e-tailers looking to add to their customer experience and touch points. We have many clients who have found success with pop-up stores in that they have since signed on for longer term leases as they believe in the power of bricks and mortar.
What's your sense of how well the retail sector will do this year?
Halpin-Tarrant: We will always experience vulnerability in the marketplace. Consolidation will continue as retailers adjust to the threat of online and category killers such as Amazon.
Landlords will continue to redevelop their properties to add density and cater towards a mixed-use offering.
An increasingly discerning consumer will continue to disrupt the market and both retailers and landlords who don't adapt will get left behind.
With all this change comes opportunity, and we're encouraged by the many first-to-market brands and innovative concepts across various sectors that are adding new players to the mix and presenting existing brands with new growth opportunities. Non-traditional retail and out-of-the-box thinking continues to create opportunities in spaces and places that previously was not there before.
These compelling retail experiences will drive growth, and we're seeing demand for our services surge as retailers and landlords look to us for guidance in this evolving landscape. The future is bright for retail!
---

The views, opinions and positions expressed by columnists and contributors are the author's alone. They do not inherently or expressly reflect the views, opinions and/or positions of our publication.